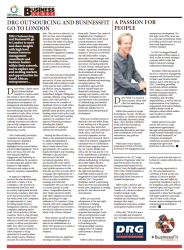 David White - A Passion For People
David White is a seasoned chief executive officer with a flair for marketing and general management.
White's first passion is people development. He says, "People are my passion, as I believe it is people who will make the world a better place. I have absolute confidence in the belief that if people are given the opportunity to understand themselves and make their contributions in the work environment, any goals are achievable."
White says it was a natural progression for him to become involved in HR management and entrepreneur development. The first eight years of his career was in a corporate environment, where he worked at Shell South Africa in their retail department as a territory manager.
In 1995, he dragged himself from the glam of this position at Shell, to join an owner-managed company called Prolab, that helped contractors manage employment relationships.
Thereafter, White discussed the idea for a contractor management company with his friends (Raoul Di Marco and Graeme Minter Brown), and in 1996 they set up DRG Consulting, providing payroll and contract solutions.
DRG today is a total solutions provider in human resources, assisting companies with compliance and reporting responsibilities, as well as with the implementation of an 'employee engagement' environment helping business leaders create an enterprise culture which enables team members to deliver sustainable results.
White's passion for people and the dire need to create employment opportunities through entrepreneurship and sound business leadership led him to help found BusinessFit, an Enterprise Development Beneficiary, focussed on helping entrepreneurs grow their businesses to the next level.