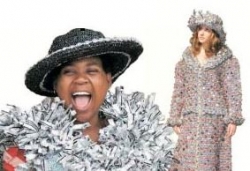 Afripack:Functional art from waste
Afripack Functional art from waste
2013-04-29
South Africa still has a long way to go in the effective use, reuse and recycling of waste plastics. Afripack donates redundant and scrap raw materials-wood, plastic, cardboard and print trim to various causes including the Ningizimu School for the mentally disabled and the Umcebo Trust. This so-called scrap is being turned into highly desired products that in some cases are regarded as works of art.

The Story
There are well established guidelines at Afripack on how each type of waste is to be processed for recycling and we ensure that the waste arrives in a usable condition i.e. the various types of waste are not mixed. Creative artists at the Umcebo Trust create anything from exotic clothes to wall mosaics, baskets, hats, mats and jewellery, chandeliers and pots from the waste. The clothes in particular express the reservoir of creative skill that often lies dormant in South Africa. The dress and jackets are woven from waste off-cuts and then adorned with buttons and sequins. Metallised holographic BOPP- trim from our "Lucky Packet" range- is particularly popular. Umcebu currently have an order for 100 baskets for the craft shop "Anthropologie" in New York.

Objects of Desire
The Umcebo trust has a retail outlet at Ushaka Marine World in Durban and has also been invited to display some of the designs at the SA fashion week. The Durban Art Gallery also hosted an exhibition in which the work of the Umcebo Crafters received critical acclaim. Orders for goods come from as far as the USA and Europe, and sometimes the Trust struggles to keep pace with the demand. The project also provides major advantages for Afripack. It provides an outlet for a significant portion of our waste and is an excellent marketing tool in a business world that is rapidly waking up to the need to consider the environmental impact of any operation.

Social Impact
Currently the project supports 25 extended families and is growing rapidly. While most of the artworks are created on a small scale, bigger projects are developed to order. The use of the metallised plastic has allowed these artists to create stunning pieces that may sell for as much as R1600. Each worker supports 7-12 family members from the income. This project is a superb example of how socially responsible and caring businesses can impact on local communities and the environment for the better. Who would have thought that scrap off-cuts could be used so effectively to give others a chance for a better life?










---