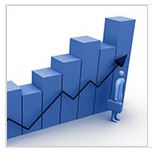 Adapt IT - Acquisitions Help Boost Adapt IT
Adapt IT - Acquisitions Help Boost Adapt IT
2015-12-08
DURBAN â€" Adapt It Holdings on Monday said it had grown organically and through acquisitions in the year to June as it reported profit of R58 million, up from R38 million in the corresponding period last time.
The provider of specialised turnkey IT solutions and services to the education, mining and manufacturing, financial services and energy sectors said profit from operations (which is before tax of R27 million and other deductions) had increased by 89 percent, from R49,7 million to R93,8 million, representing an improved operating profit margin of 16 percent.
The company said in a statement that turnover for the year had increased by 42 percent from R406 million to R575 million, with organic growth at 18 percent and acquisitive growth at 24 percent.
Adapt IT noted its acquisition of South African telecommunications software provider AspiviaUnison during the period under review, as well as the smaller offshore acquisition of Student Management Software Systems in New Zealand.
Headline earnings per share came in at 46,54 cents, 35 percent better than the 34,55 cents recorded the year before. The board declared its 13th ordinary dividend of 10,90 cents per share, payable in September, which represents a 32 percent increase on the prior year.
---