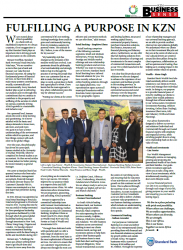 Standard Bank - Fulfilling A Purpose In KZN
Standard Bank - Fulfilling A Purpose In KZN
2018-02-25
We are excited about Africa's possibility. As a bank with an established footprint in 20 African countries, it's no exaggeration to say that Standard Bank plays an important role in driving growth and innovation on the continent.

Imraan Noorbhai, Standard Bank Provincial Head KwaZulu-Natal says, "We see ourselves as more than just a bank and measure our value beyond financial outcomes. By using the fundamental power of financial
services, we have been able to make many positive contributions, socially, economically and environmentally. Every Standard Banker plays a part in delivering our purpose and it is through this commitment that we continue to contribute to the prosperity and wellbeing of the societies in which we operate, positively driving Africa's growth in a sustainable and inclusive way."

On a personal level, Imraan attests the need to keep learning and questioning. He is never satisfied with the basics and always demands to know more, ask more, and seek more. His quest is to have a better understanding of the environment within which he operates, and how things connect with each other in the global village. Over the years, this philosophy has driven his career path.

Imraan studied at the University of Durban Westville, where he completed his formal studies as an accountant. He then served articles at Desai Jadwat Inc before joining the motor industry as general manager.

His career at Standard Bank has spanned various roles from sales and distribution, management accountant, financial manager and finally director finance for Customer Channels PBB SA. Imraan was nominated as a Star and Super Star performer during this time.

In 2010, Imraan was appointed as Head Retail Banking in KwaZulu-Natal and progressed to Provincial Head in 2015. During this time he was successful in being nominated for three prestigious leadership programmes facilitated by GIBS through which he gained global leadership banking exposure through emersions in New York, China/ Hong Kong / Nigeria and London. He has also enjoyed many international learning experiences with the latest being to Berlin and Stockholm during 2017.

Imraan says, "I challenge the status quo; always seeking better ways to get the job done and the need to move away from the conventional if it's not working. Seeking knowledge from cradle to grave and continuously learning from my mistakes; sustains my personal vision. This attitude to life, I believe, is one of the reasons for my success."

"My leadership style has changed as the demands of the modern world have evolved. I am passionate about the philosophy of servant leadership and strongly believe that it is through the practise of serving the people that serve our customers that we are able to make this bank a great place to work, a great place to bank and a great place to invest. I have learnt that the team approach is key, where collaboration paves the
way for ultimate success."

"Putting our clients at the centre of everything we do remains the key to our success. We remain inspired by our purpose which is to improve lives and fulfil aspirations across Africa. We value interactions above transactions. We are progressive, pioneering, and unlocking Africa's potential."

Imraan is supported by a committed leadership team with Hameed Noormahomed as Head Business Banking, Nathan Govender as Head of Commercial Banking, Simphiwe Khoza as Retail Head KZN, Mano Singh as Wealth Head KZN and Lisa Forster as Head of Wealth and Investments KZN.

"Through these dedicated units with specialist staff, we offer a wide range of solutions to our customers, from the most basic to the most sophisticated of financial services. Our aim is to ensure that our customers' requirements are always met through the most cost effective and convenient methods we can offer them," adds Imraan.

Retail Banking â€" Simphiwe Khoza

Retail banking comprises of the following customer segments: Small and Medium Enterprises, Private Banking, Prestige and Middle market offerings and non-relationship banking products and services.

Whether you want to transact, save or borrow, Standard Bank Retail Banking has a tailored financial solution for you. We have recently enhanced our online banking solutions through our digital platforms. Our
representation spans across all municipal boundaries within KwaZulu-Natal, represented by six geographic regions i.e. Dolphin Coast, Hibiscus Coast, Drakensberg, Msunduzi, Zululand and eThekwini Areas. We are always ready to serve you through our digital, self service and branch channels."

Business Banking â€" Hameed Noormahomed

As South Africa's leading Business Bank, our Business Banking segment within KwaZulu-Natal comprises five suites spanning the entire province namely; Dolphin, Hibiscus, eThekwini, Msundusi and Zululand. We offer business solutions across conventional banking to meet our clients business needs, savings and investment options to help them achieve their business goals and business loans to meet both their short and long term financial obligations. These include transactional accounts and lending facilities, structured working capital finance, commercial property finance, merchant transaction solutions, fleet finance, insurance and financial planning and fiduciary advice. Furthermore, we also offer Shari'ah banking solutions from the most elementary of savings and investments to the most complex of commercial transactions such
as our FECs which launched in the last 18 months.

It is clear that the products and solutions we offer are designed to enhance the experience of our customers and facilitate growth in this exciting province. In doing so, we understand that our commercial success and social relevance over the long term depends on placing our clients at the centre of everything we do, and ensuring that the outcomes of our activities are a catalyst for growth on this continent we call home. This is achieved through the expertise of our Account Executives, Account Analysts and Customer Service Consultants as we are able to deliver a holistic customer value proposition to our Business Banking customers which includes an understanding of the ecosystem within which they operate.

Commercial Banking - Nathan Govender

Our purpose as Commercial Banking is to create and deliver value to our entrepreneurial clients, providing them with financial and non-financial solutions as partners for growth within and outside of South Africa. We support businesses with a turnover of between R300 million and R1.3 billion. Through the expertise of our relationship managers and our universal banking approach, we are able to provide excellent client service and solutions globally.

We understand where our clients are in their investment lifecycle and they are at the centre of what we do.
Our cultural drivers are centered around the three pillars: living the client experience; collaboration; as well as openness and trusting, thus helping us in creating impact in the societies within which we operate.

Wealth â€" Mano Singh

Standard Bank Wealth KwaZulu-Natal seamlessly delivers wealth solutions to our clients to Protect, Grow and Manage their individual needs. In doing so, our purpose is to provide financial peace of mind by enabling our clients to achieve their wealth ambitions through best of breed solutions in our various suites: Investment (Investment Planning, Offshore Investing, Online Share Trading), Insurance (Short term; Life)
and Fiduciary (Wills and Estate Planning).

Our advice framework is designed to deliver our services and solutions (Individual and Commercial) through our trusted financial experts with simplicity and impactful service, while enriching people's lives in a long term relationship built on the core value of trust.

Wealth and Investments â€" Lisa Forster

Our Wealth Management Philosophy centres on managing, growing and protecting the generational wealth of our clients and their families. Our goalsdriven investment approach allows you to take a long-term view of your investments, whilst simultaneously meeting your short-term lifestyle needs.

As your financial partner, our aim is to accompany you through each stage of your life, giving purpose to your wealth and ensuring you can leave a lasting legacy.

We live in a place pulsating with pride and possibility. Where others see challenges, We see endless opportunities. Where others see diversity, We see strength. This is our Africa. This is our home. Together we move Africa forward.
---