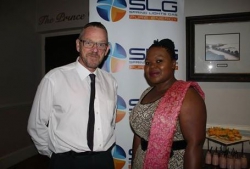 Spring Lights Gas - Customer Gas Forum - 6 November 2015
Spring Lights Gas - Customer Gas Forum - 6 November 2015
2015-11-11
SLG held its annual gas forum in Durban and its customers and various stakeholders attended the annual event. This platform has been created as part of SLG's value added services to it customers and other various stakeholders.
Motivational speakers, like Mr Femi Adebanji shared an interesting talk on his passion for life and what attributes make you a success . SLG also welcomed Mr Mike Newton who is a Sepcial Advisory to the Premier of KZN where various exciting plans for KZN were shared.
The programme also included a talk on CNG project at Toyota by Mr Arden Wessels;Fuel Cells as an alternative Energy Supply by Ms Anthea Bath from Mitochondria Energy as well as what the economy outlook by Ms Elize Kruger.
Thank you to all who attended and to all our speakers !
Click on
https://www.facebook.com/Spring-Lights-Gas-275300559208960/?fref=ts
to view uploaded images or feel free to visit our webpage:
http://www.slg.co.za
.
---