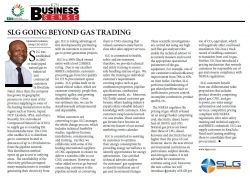 Nkosinathi Solomon, Group CEO of SLG - SLG Going Beyond Gas Trading
SLG was established in 2002 to trade piped natural gas to industrial and commercial customers in KwaZulu-Natal. Since then, the company has grown its geographic presence to cover most of the province supplying to some of the leading manufacturers in the region such as Toyota, Sapref, NCP Alcohols, IPSA, and others. Recently, SLG introduced Compressed Natural Gas (CNG) to supply gas to a leading JSE listed manufacturer. The CNG offer enables SLG to distribute gas to customers located at distances of up to 150 kilometres from the pipeline network. This distribution method opens up gas access to outlying areas. The unreliability of the electricity grid has prompted many manufacturers to consider generating their electricity from gas. SLG is taking advantage of this development by partnering with its customers to invest in gas to power generation projects.
SLG is a 100% Black owned entity with a level 2 BBBEE rating. Due to our excellent BBBEE credentials, customers procuring gas from SLG qualify for 153 % procurement spend points. SLG prides itself on its
sound ethical values, which are customer centricity, people first, integrity, agility, and growing shareholder value. Given our optimum size, we can be simultaneously entrepreneurial and dependable.
When customers are converting to gas, SLG manages the whole change process, which includes technical feasibility studies, regulatory licenses, installations, commissioning, and training. Further, we collaborate with some of the leading international suppliers of CNG equipment to ensure we deliver a seamless offer to our CNG customers. However, our value-added services go beyond connecting customers to the pipeline network or converting them to CNG ensuring that valued customers enjoy best in class after sales support services.
SLG is committed to health, safety and environment, therefore, we provide technical and safety training to ensure safe handling and use of gas. We tailor the training to individual customer's requirements covering topics such as gas combustion properties, pipeline specifications, combustion equipment needs, etc. Moreover, SLG holds annual customer gas forums, where leading industry experts share valuable industry knowledge with customers. Also, customers swap lessons learned via case studies. These customer gas forums have become an attractive feature of our annual marketing events calendar. SLG is committed to assisting its customers to optimise their energy consumption by providing energy surveillance to identify opportunities for energy optimisation. Our certified technical advisors analyse the customers' gas equipment to identify inefficient use of gas and recommend changes.
These scientific investigations are carried out using our high tech flue gas analysers that enable the technical advisor to accurately measure and record the appropriate operational parameters of the gas equipment. For example, one of our customers realised efficiency improvement from 78% to 85% on their boiler. Further, SLG performs troubleshooting of gas related problems such as inefficiencies, process control, incomplete combustion, product quality, etc.
The NERSA regulates the pricing of gas, which is based on an energy basket comprising coal, electricity, diesel, heavy fuel oil (HFO), and LPG. Natural gas prices are lower than those of LPG, diesel, kerosene and electricity but are higher than the price of coal. However, due to the new stricter environmental restrictions on particulates, sulphur dioxide, and nitrogen oxides, it is not advisable for customers to continue using coal. Moreover, the new carbon tax will introduce a penalty of R120 per ton of COâ'' equivalent, which will negatively affect coal based installation. SLG has a track record of enabling customers to transition from coal to gas. Further, SLG has introduced a pricing mechanism that rewards customers for responsible use of gas and ensures compliance with NERSA regulations.
SLG customers benefit from our differentiated value proposition that includes product diversity comprising
piped gas, CNG, and gas to power, pre-sales energy optimisation and conversion services, competitive pricing compliant with NERSA regulations, after sales safety training and technical support, and BBBEE credentials. SLG can supply customers in KwaZulu-Natal and Gauteng enabling them to consolidate their gas procurement.
www.slgas.co.za