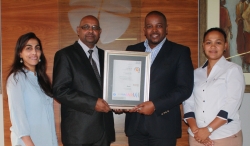 From left to Right:Anisa Khan , CFC of SLG , Basil Pillay Certification and Business Enhancement, Senior Auditor SGS â€" South Africa, Mthoko Mbatha, CEO of SLG and Liesl Esau of HSE Matters
SLG - Award winning BBBEE Energy Company Achieves ISO9001: 2015 Certification
2018-01-29
Spring Lights Gas (SLG) Pty Ltd, is a leading 100% black owned, and supplier of premium quality gas to industries situated in KwaZulu Natal, Free State and Gauteng.
The Company quality management system has been certified to ISO9001:2008 for several years and through a successful transition to the new requirements of ISO9001 released in 2015, SLG management is proud to announce its recent certification to ISO9001:2015.
SLG management and staff are extremely proud of this achievement as it is a reflection of the company's dedication to customer satisfaction, risk management, service delivery and continuous improvement of our internal and external processes.
SLG management engaged with HSE Matters (Pty) Ltd owner, Liesel Esau for the successful implementation of ISO9001:2015. Group CEO, Mthoko Mbatha, said that SLG continuously strives to improve its service delivery to its stakeholders. The certification is evidence that SLG is committed to delivery services improvement. He also thanked SGS Certification and Business Enhancement Division for their objective and professional conduct during the certification process.
Contact
Group CEO : Mthoko Mbatha ; Telephone: (031) 812 0555, email:
mthoko@slgas.co.za
www: slgas.co.za
More
SLG address your growing need for efficient energy solutions and ensures companies are adequately served to meet their business energy needs. Gas (methane rich and compressed natural gas) is delivered directly from source to factories via an extensive, well-built pipeline network and via Compressed Natural Gas.
Customer offerings:
An environmentally clean and cost efficient energy alternative to conventional forms of energy such as Liquified Petroleum Gas, Coal, Heavy Fuel Oil, Illuminating Paraffin and electricity.
Product versatility (Cogeneration and Tri-Generation) to improve your overall company's energy efficiency.
Tailored technical services.
Some interesting facts
100% Black owned and run.
Largest CNG operator in South Africa and 2nd largest pipeline trader in SA, in KZN and Gauteng.
95 years of combined expertise.
Voted in the 20 brands in KZN.
Award winning energy company (Toyota Supplier award, Finalist in the National Business Awards).
Recognising Entrepreneurs in KZN - KZN Top Business Award sponsored by KZN.
NERSA regulated.
Contributes to the KZN skills development and CSI projects. Promotes maths and science development at schools through school lab investments.
Operate with honesty and integrity.
Product is available 24/7.
Blue chip customers.
ISO Compliant.
---