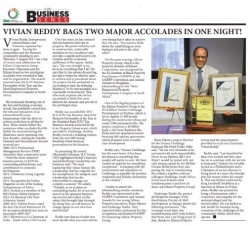 Edison Power Group - Vivian Reddy Bags Two Major Accolades In One Night!
Vivian Reddy, Entrepreneur extraordinaire and Visionary supreme has done it again - leaving his competition and the business community standing in awe. Thursday, 3 August 2017 was a day of victory and celebration for Edison Corporation Group Executive Chairman and his Edison brand as two prestigious accolades were awarded to him and his organisation. The awards received were the KZN Business Personality of the Year and the Most Empowered Property Development Company in South Africa.
His trademark thinking out of the box and bucking economic trends, has justifiably earned him the title and reputation of an extraordinarily astute businessman with the drive to achieve perfection in all that he does. These awards follow the numerous other accolades that Mr Reddy has received during his illustrious career spanning over four decades. Among the notable National and International Awards received are:
2009-2013: Professional Management Review (PMR) Award for three consecutive years - Voted the Most Admired business person in KZN for outstanding philanthropy and contribution to economic development
2011: eThekwini Living Legends Award
2011: Recognition by Forbes Magazine as one of the leading Entrepreneurs of Africa
2012: Invited as a member of the Bill Clinton Global Initiative
2015: SA Business Life Time Achievers Award
2009-2017: Edison Power voted the best Electrical Business in SA for an unprecedented nine years in succession 2009-2017
2017: Elected as a Co Chairman of India - South Africa CEO Forum
Over the years, he has ensured that his business interests in property, the power industry and in construction, continually maintain service excellence and provides a significant boost to job creation and the economic upliftment of the region. Reddy says, "My core strength is my focus in everything that I do". He says that he has always dreamt big, has had a vision for what he aims to achieve and is passionate about the projects he has embarked on. According to him, his defining Mantra is "to be unreasonable in a reasonable environment". That effectively explains why he has succeeded in fields that were hitherto the domain and prevail of the privileged class.
Reddy was awarded the 2017 SLG KZN Top Business Award for Business Personality of the Year at the Standard Bank KZN Top Business Awards powered by the eLan Property Group event, which was held in Umhlanga, Durban. Reddy received a standing ovation from the over 400 strong KwaZulu-Natal business personalities at the function.
In presenting the award, Nkosinathi Solomon, SLG Group CEO highlighted Reddy's business and philanthropic leadership role. Solomon said, "We need leadership that values human life, a leadership that has empathy for the unemployed, the indigent, and a leadership that has the wherewithal to manage our complex economy." He added, "Tonight, as we acclaim an outstanding leader, let us not only marvel at his apparent business success but also reflect on the values that brought him triumph. By doing that, we will learn to be change agents in our own lives and beyond".
Reddy says that as a leader you must decide what you want and do everything that it takes to achieve this. He says, "You need to think about the small things in your business and put in the extra effort".
On the same evening, Edison Property Group, which is the property division of Edison Corporation, was recognised by the SA Institute of Black Property Practitioners (SAIBPP) at the SAIBPP Convention and Annual Awards in Houghton, Johannesburg for the "Most Empowered Property Development Company in South Africa".
One of the flagship projects of the Edison Property Group is the R3.8 Billion Oceans Umhlanga Development in Durban, which is set to employ 15 000 people during the construction phase and create 2500 permanent jobs. The project comprises a 40 000m2 mall, a 220 room Radisson Blu Hotel and two apartment towers boasting 460 opulent apartments, which promises to be a world-
class development.
Reddy says, "Oceans Umhlanga has the wow factor. It has been developed as something that people will aspire to own. We have created an appetite for something exceptional - in keeping with the environment and reputation of Umhlanga as arguably the premier residential and holiday destination in the country".
Unable to attend the Johannesburg awards ceremony, Reddy was represented at the SAIBPP Convention and Annual Awards by two young Edison Property executives, Brian Mpono and Siyabonga Tembe. They expressed their excitement for this recognition and thanked SAIBPP for honouring Edison Property Group.
Brian Mpono, project director for the Oceans Umhlanga Radisson Blu Hotel Public Offer said, "We are very fortunate to be entrusted with such responsibility. Never in my lifetime did I ever think I would be tasked with not only raising capital for the R620m Oceans Hotel project but, also paving the way in transforming the industry together with my colleague Siyabonga. South Africa if you want to know what transformation is and how it's done, ask Edison Property Group".
Siyabonga Tembe, the project development manager of the KwaDukuza Precinct & Mall development in Stanger shared the following sentiments, "The evening's event topic was transformation and I truly believe that Brian and I are living proof of that, thanks to Edison Property
Group and the opportunities provided to us by our Chairman, Vivian Reddy."
Reddy said, "I am humbled by these two awards and they spur me on to continue with my service to humanity". Indeed, his enviable record as a Philanthropist and a Champion of social cohesion is living proof of a man who literally puts his money where his mouth is. This was further endorsed by King Goodwill Zwelithini at a function at Sibaya on Friday where Reddy was praised for being a Businessman with a conscience and empathy for the underprivileged and the downtrodden. He was hailed as role model for business being conscious of the challenges of the community within which they operate.