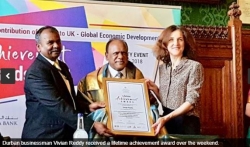 Vivian Reddy gets Lifetime achievement award in London
Durban - Durban businessman Vivian Reddy received a lifetime international award for social cohesion, philanthropy and business success at the House of Commons in London, over the weekend.
The House of Commons is the lower house of the Parliament of the United Kingdom.
The award recognises individuals who have made a difference in their local communities.
Speaking to POST, Reddy,65, the owner of Edison Cooperation, said he very excited about receiving the award and that it motivated him to do more work and ultimately change the lives of people.
Over the years Reddy has been involved in various charity and social cohesion projects.
For his 60th birthday in 2013, Reddy hosted 10 000 disadvantaged children to a day of fun at the uShaka Marine World, during which he closed the theme park for the day.
He is also instrumental in the We Are One Festival that promotes people from different backgrounds and ethnic groups being united by sport over a two-day festival, which includes residents from KwaMashu and Phoenix.
Reddy celebrated his award with his wife Sorisha Naidoo and their two children.
Taking to her Instagram account Sorisha wrote: #houseofcommons Well done Babe on your #lifetimeachievement award.
Instagram users posted their well wishes:
Sureshnierider: That is soooo special! Congratulations!
Karaboobarak: Congratulations Mr Reddy. Very beautiful family too.
Shireenmunilal: Congratulations Mr Reddy on your achievement hard work really pays. God bless you.

THE POST / 2 JULY 2018, 4:00PM / JOLENE MARRIAH - MAHARAJ