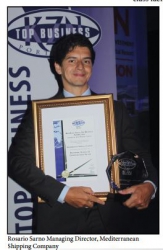 Mediterranean Shipping Company-KZN Top Business Awards:Winner:Transport, Storage & Communication:Rosario Sarno Managing Director, Mediterranean Shipping Company
Mediterranean Shipping Company-KZN Top Business Awards:Winner:Transport, Storage & Communication
2016-08-05
THE WINNER IS ...

Mediterranean Shipping Company
Mediterranean Shipping Company (MSC) has an innovative, flexible and unique approach to shipping that has allowed the company to grow significantly over the last twenty years. Founded in 1970, MSC is now the biggest user of the South African ports and by 2003 was the second biggest container carrier in the world, operating in excess of 480 container vessels.

MSC's dramatic growth over the past decade can be attributed to two things: the quality management system that aims at consistently improving upon service levels within the shipping community and MSC's willingness to initiate change to meet the requirements of clients and principals.

FINALISTS

King Shaka International Airport
King Shaka International Airport is now six years old. The world class facility continues to win accolades and is a major economic catalyst facilitating better tourism, travel and business opportunities in the province.

Richards Bay Coal Terminal
Richards Bay Coal Terminal is one of the leading coal export terminals in the world and proudly celebrates their 40th anniversary in 2016. The terminal has grown into an advanced 24-hour operation with a capacity of 91 million tons per annum with a reputation for operating efficiently as well as reliably.
---