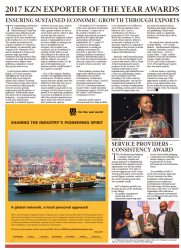 Mediterranean Shipping Company (MSC) : Service Providers - Consistency Award
Mediterranean Shipping Company (MSC) : Service Providers - Consistency Award
2017-12-07
The Mediterranean Shipping Company (MSC) has an innovative, flexible and unique approach to shipping that has allowed the company to grow significantly over the last twenty years. Founded in 1970, MSC is now the biggest user of the South African ports and by 2003 was the second biggest container carrier in the world, operating more than 440 container vessels.
MSC's dramatic growth over the past decade can be attributed to two things:
The quality management system that aims at consistently improving upon service levels within shipping
Community and willingness to initiate change to meet the requirements of clients, principals and environmental issues.
The credibility of MSC's service has ensured a large base of loyal customers has been maintained. With dedicated employees and continuous developments of infrastructure and technology, this base grows from day to day. MSC is a "family" organisation and cultivates a culture of personal commitment and contribution from each of its employees.
L - R: Shabnum Moosa, Mercury Newspapers; Glenn Delve, MSC National Commercial Director; Durban Chamber President, Musa Makhunga
---