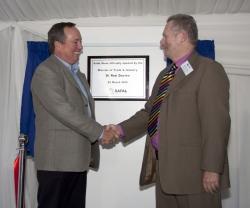 Safal Steel's new metal coating manufacturing plant in Cato Ridge
Safal Steel- New aluminium-zinc coating plant officially opened in KwaZulu Natal 5 March 2012.
2011-03-08
The opening ceremony of Safal Steel's new metal coating manufacturing plant in Cato Ridge, was held without a hiccup, despite the possible threats of cyclone Irina in March. The facility represents an investment of more than R1-billion in the local economy.

Safal Steel played host to elite dignitaries such as the Minister of Trade and Industry, Dr Rob Davies, Shinya Higuchi Managing Director of Nippon Steel, Naoyuki Akimoto Executive officer of Marubeni Itochu Steel Inc. and Dr Manu Chandaria Chairman of the Comcroft Group, as well as various project suppliers and valued customers.

Minister Davies said during the opening ceremony that this is a sizable and significant investment that is timely and important as hundreds of new jobs were created during the construction process and this number will continue to grow as Safal Steel continually recruit.
International stakeholders in the project include the European Investment Bank and International Finance Corporation, a member of the World Bank Group. The Industrial Development Corporation also played a significant role in the project.

From 2006 when the first feasibility studies were conducted, over 2,500,000 man hours were deployed to get the facility constructed. Safal Steel at the time of construction was the 3rd largest project in KZN alongside the construction of the new King Shaka Airport and the Moses Mabhida stadium. The construction of the plant commenced in 2008, with full commercial production starting in 2011. Safal Steel's capacity to supply the local markets and various export markets is 150 000 tons per annum, in our first year of production we achieved over 70 000 tons distribution. The first year of production led to the company receiving a prestigious award, Exporter of the year 2011, which was attained from the Durban Chamber of Commerce.

Safal Steel produces metal coated coils using a patented aluminium-zinc coating technology (AZ). The company believes in producing long lasting quality products; branded ZincAL® and COLORPLUS® which carry a tailor made warranty if application is made to Safal Steel. Their brands are tested to American, Australian, European and South African International ASTM.
On behalf of Safal Steel would like to extend thanks to every individual and company involved in getting Safal Steel operational, project suppliers, customers, government officials and last but by no ways least their dedicated staff and their families.


---