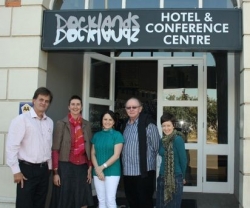 Celebrating the launch of the New Paradigms Conference in Durban in October 2012 are (from left to right): Kevin Bingham (KZNIA Education Chair), Nina Sanders (KZNIA President), Tammy Grove (SAFAL Steel), Rodney Harber (UIA Education Committee) and Georgi
Safal Steel- New Paradigms Conference 2012 announced
2012-08-23
The organising team met recently at the architecturally inspiring Docklands Hotel in Durban, where the conference will be hosted, to mark the occasion. Nina Sanders, Kevin Bingham, Rodney Harber and Georgie Chennells of the KZNIA welcomed Tammy Grove, marketing officer for SAFAL Steel, to the conference fold.
The Conference marks a positive development in the evolution of the popular KZN Architectural Education Conference, now in its fourth year. The Conference also now includes SAFAL Steel as the title sponsor, while still maintaining strong ties with local educational institutions, Durban University of Technology and the University of KwaZulu-Natal.
One of the objectives of the theme 'New Paradigms' is to raise questions around generally accepted architectural discourse: from physical aspects such as approaches, materials and tools, to intangibles such as teaching, networks and patronage. It\'s anticipated that vigorous debate will result, contributing to constructive proposals for the future that will vitalise both education and practice.
Speakers at the conference include Rajeev Kathpalia, architect and Director of the Vastu Shilpa Institute in India, and John Stevenson, an architect and educator leading professional programmes in the School of Architecture at Oxford Brookes University in the UK.
One of the legacy projects of the UIA Durban 2014 Conference is Open Architecture. Developed by the KZNIA and the South African Institute for Architecture (SAIA), this revolutionary new learning platform will offer a universally recognised alternative to mainstream post-graduate architecture education, while allowing students to remain in full-time employment.
Georgie Chennells - Events and Media
Email: www.kznia.org.za
Tammy Grove - Marketing Officer
Email: marketing@safalsteel.co.za
Telephone: +27 (0)31 782 5500
---