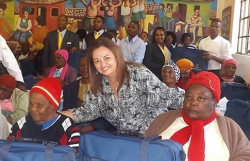 Durban ICC:Former Durban ICC Chief Executive Officer, Julie-May Ellingson and some of the Durban ICC team share the morning with Issy Geshen Home residents. Pictured here are Adelaide Mofokeng (83) and Gladys Thoko Zuma (73).
DURBAN ICC SUPPORTS LOCAL SENIORS HOME
2014-07-14
Last Friday local senior citizens were offered some relief from the brutally cold winter when the Durban ICC donated 90 suitcases filled with winter supplies to the Issy Geshen Home for the Aged. The gifts included a warm winter blanket, a hot water bottle, soup, chocolates and a coffee mug for each staff member at the home.
As part of its CSI project, the Durban ICC's executive team individually presented the bags to the residents of The Issy Geshen Home for the Aged. In addition to the bags, the residents were also treated to delicious chocolate cupcakes. An outburst of singing and jubilation emerged from the residents as the Durban ICC team served them. The Durban ICC team had the opportunity of serving and spending quality time with the residents and initiating a long standing relationship with its staff.
The Issy Geshen home is situated in the heart of Lamontville which was established during the 1960's by a local businessman, Mr Issy Geshen. It was founded after Geshen observed an elderly black man rummaging through a rubbish dump for food and was then determined to build a frail care centre for the elderly. The centre opened its frail care facilities in 1996 and has since expanded its nursing staff to support additional responsibilities.
Administrator Mr Sifiso Ngidi said, "We are very grateful to the Durban ICC for their generous efforts in bringing a smile to our elderly folks. Thank you for the interest that you have shown in our organisation. Even their families that came for a visit on Friday were very excited. You obviously brought smiles to them and the blankets have already been put to good use as it was bitterly cold this weekend."
Former Chief Executive Officer, Julie-May Ellingson said, "It was an absolute pleasure to serve the residents at the Issy Geshen Home. It also allowed us (the Durban ICC team) to reflect on how fortunate we are in terms of being healthy and able. We hope to inspire and encourage other organisations to continue uplifting and developing our communities through these platforms of opportunities which are presented to us."
-ENDS-
Issued by: The Durban International Convention Centre
For more information contact: Scott Langley, 031 360 1315 or
scottl@icc.co.za
---