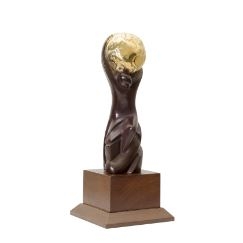 Durban International Convention Centre to host Africa and Indian Ocean Gala Ceremony 2018
World Travel Awards (WTA) has revealed its Africa & Indian Ocean Gala Ceremony will be hosted at Durban International Convention Centre (Durban ICC), South Africa.
Hospitality leaders from across the region will gather for the red-carpet gala ceremony on 6th October 2018 to see who amongst them has been voted the best in the business.
Enviably located moments from Durban Beachfront, the award-winning Durban ICC is a state-of-the-art events and entertainment venue.
It will be WTA's second visit to Durban ICC, having hosted the ceremony in 2009.
Graham Cooke, Founder and President, WTA, says: "It will be an absolute pleasure to return to Durban for the first time since 2009. With its beautiful beaches and fascinating Afro-Indian culture, Durban is one of South Africa's essential destinations.
"We are honoured to partner with the Durban ICC. Opened by Nelson Mandela in 1997, this incredible facility has successfully staged some of the world's most prestigious events. I look forward to welcoming all of our nominees here in October, as part of our silver anniversary celebrations.
"WTA has maintained its position as the industry leader for the past 25 years, consistently proving its value as the global benchmark for excellence in the travel, tourism and hospitality business."
Cosmopolitan Durban is one of South Africa's most popular tourism destinations thanks to its stunning beaches, warm year-round climate and friendly people.
Lindiwe Rakharebe, Chief Executive Officer, Durban ICC, said: "I cannot express my excitement at the prospect of hosting this prestigious event in our world-class facility at the Durban ICC and the beautiful destination of Durban,"
"We are all looking forward to welcoming our industry colleagues, friends and media from around the world. We are ready to give all our special visitors a warm and unforgettable Durban experience."
As part of the Grand Tour 2018, WTA is also hosting ceremonies in Ras Al Khaimah (UAE), Athens (Greece), Hong Kong, Guayaquil (Ecuador) and Jamaica, with the winners progressing to the Grand Final in Lisbon (Portugal).
Voting for the WTA Africa & Indian Ocean Gala Ceremony opens on 26th March and concludes on 19th August 2018.
For more information on how to participate visit www.worldtravelawards.com/vote