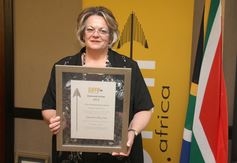 Damelin representative: Dr Berendien van Aswegen receives the Diamond Arrow Award at the PMR Leaders and Achievers Breakfast
Damelin Voted Top Higher Education Institution
2013-05-02
In a recent survey, spearheaded by the City of Johannesburg, Damelin was voted as the top Higher Education Institution in the Johannesburg area. Damelin was presented with the prestigious Diamond Arrow Award at the Leaders and Achievers Breakfast which was held at the Hyatt Regency in Rosebank, Johannesburg on 5 November 2012.
Damelin shared the limelight with notable winners in other categories, including Alexander Forbes, Avis Fleet Services, NBC Holdings, 702 Talk Radio, Milpark Business School and many more.

The survey aims to enhance excellence and set a benchmark for proficiency in the industry. Results were reached after extensive research was conducted with prominent industry players, including CEO's, managers and senior government officials, who voted for organisations with exceptional quality and distinction.
With almost 70 years of excellence in the private education sector, Damelin came out as the undisputed leader, which demonstrates that the brand is serious about education.

"Damelin believes that the key to a brighter future is education, therefore it is our mission to deliver innovative yet relevant programmes on multiple NQF levels, while contributing with integrity and commitment to the community ideals of skills development and employability", said Group Chief Commercial Officer, Nolan Charles.

The award reinforces the Damelin vision, which is to lead and inspire quality private education and training throughout Southern Africa and the African Continent. Damelin's one million graduates are testimony of the meaningful contributions that the institution has made to the South African economy. The brand is constantly expanding its footprint in order to make education easily accessible, and currently boasts 16 campuses and 16 franchises nationwide - with plans to open two nationwide campuses during 2013 and 2014.

For further information, contact:
Communications Department:
Jessie Naidoo or Tash Pillay - 031 2519300
Email:
jessie.naidoo@damelin.co.za
or
tash.pillay@damelin.co.za
---