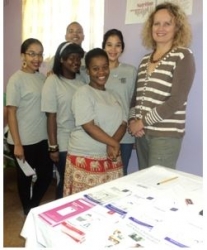 Durban University of Technology:Third-year Food and Nutrition Consumer Sciences students at the Kenneth Gardens Clinic
Durban University of Technology: Food & Nutrition Conusmer Sciences students advise Kenneth Gardens to eat healthier
2013-05-20
Students from the Food and Nutrition Consumer Sciences Department at DUT recently embarked on their annual community service learning project, this year advising the Kenneth Gardens community, Umbilo, Durban, on eating healthier.

The project, which is aimed at encouraging healthy lifestyles, involved third-year DUT Food and Nutrition Consumer Sciences students. The students are part of the Nutrition Clinic that serves as part of Homeopathy Clinic at the Kenneth Gardens Clinic. The Nutrition Clinic operates on Wednesday mornings, and here, community members are advised on healthy eating and general nutrition. A group of students also assist in the Carrots and Peas soup kitchen (at the Clinic) in preparing food for this needy community. Food and Nutrition Consumer Sciences students are expected to dedicate 20 hours throughout the year to community work.
Speaking about the programme, Professor Carin Napier who is also a postgraduate student supervisor in the Department said it was important for students to be involved in community work. This, said Prof Napier, allows them to make their knowledge useful. "Healthy eating is important in fighting diseases, obesity and maintaining a healthy body," she said.
Prof Napier's sentiments were echoed by Andile Mtolo, Community Engagement Co-ordinator in the Department, adding that some of the people coming to the clinic suffer from diseases like diabetes and high blood pressure and should be aware of the importance of a healthy diet. "We give people pamphlets on various nutrition related topics but that doesn't end there. Students also explain their (pamphlets) content in a language that is easy to understand," he said.
- Nkosinathi Wanda
Pictured: Third-year Food and Nutrition Consumer Sciences students at the Kenneth Gardens Clinic. From left to right is Nokuthula Nyembe, Lungi Chili, Ayakha Sigwabe and Kelliane Smith. At the back is Andile Mtolo and on the right Prof Carin Napier
---