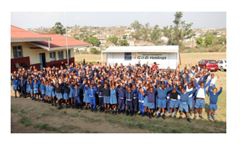 G.U.D. Holdings-The learners of Zenzele Primary celebrate their new classroom and admin building.
G.U.D. Holdings-Folweni school receives generous donation by G.U.D. Holdings
2014-08-11
On 5 August 2014 the staff and learners of Zenzele Primary School in Folweni celebrated their new classroom and a prefabricated office building sponsored by G.U.D. Holdings, a leading automotive products manufacturer.

According to Mrs. Zodwa Mvelase, Principal of Zenzele Primary, the school is experiencing increasing student numbers requiring additional grades to be accommodated by the school within existing resources. G.U.D. Holdings responded to the lack of adequate classrooms by converting the staffroom into a classroom for the learners. They also furnished the converted classroom with chalkboards, desks and chairs.

A prefabricated building with a staffroom, Principals' office and store room was also donated by G.U.D. to the school. The new building was inaugurated with a special ribbon cutting ceremony held at the school with G.U.D. Holdings Executives.

"Thank you G.U.D. for investing in the learners of Zenzele Primary, we are very grateful and blessed by your generosity!" said Mrs. Zodwa Mvelase.

Zenzele Primary is special to the company as many of the workers from their Prospecton manufacturing site live in Folweni. "We are proud to support Zenzele Primary and believe that by equipping the school with the tools to educate the children of this community we uplift and empower future generations of South Africa." said Red Shuttleworth, CEO of G.U.D. Holdings.

Over the years G.U.D. Holdings have assisted Zenzele Primary with major repairs and renovations to the schools' building infrastructure as well as donating classroom furniture, lap desks, workbooks and a jungle gym.
---