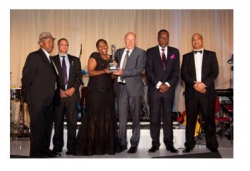 G.U.D.Holdings:Red Shuttleworth, G.U.D. Holdings (4th left) accepts the award with joint winner Nosipho Siwisa-Damasane, Chief Executive of Richards Bay Coal Terminal.
G.U.D. Holdings CEO honoured with top IPM Award
2014-12-01
The Institute of People Management recently held their Annual Excellence Awards at Sun City acknowledging business and people leaders, who contribute to furthering excellence in management.
The IPM awarded Red Shuttleworth, CEO of G.U.D. Holdings with the prestigious CEO of the Year Award in recognition for his contribution to human resources. "It is an honour to receive this esteemed award from the Institute of People Management; and to be acknowledged by my peers and members from the Executive community." says Red Shuttleworth.
The Institute of People Management is the oldest Human Resource professional body in Africa. Their goal is to partner with organisations who are thought leaders in their field of expertise to run programmes that position HR as a leader not only on people related issues, but also on issues relating to business sustainability and global competitiveness.
For more information and photographs please contact:
Charlenie Govender G.U.D. Holdings (Pty) Ltd Tel: 031 910 3345 Email:
govenc@gud.co.za
---