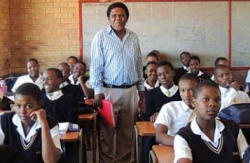 SAPREF - A book for one â€" books for all
To some South Africans having access to a book is something taken for granted, but to others, a serious luxury.
For this reason when Simanganyawo Primary School receives a gift of a mobile library tomorrow, it will be shared not only among the learners, but the entire neighbouring rural community of Grootgeluk Farm in Newcastle.
Simanganyawo is one of the 50 schools around KwaZulu Natal that will take delivery of brand new mobile libraries donated by SAPREF tomorrow as part of the celebrations of the oil refinery's 50th anniversary.
The schools are spread across the KZN province â€" from Ingwavuma to Ixopo and all districts in-between.
Each library has 800 books, a flat screen TV, a DVD player and 30 educational DVDs.
Founded in 1950 Simanganyawo, like all the schools that are beneficiaries of this project, has never had a proper library and has used classrooms as makeshift storage and reading areas.
Also tomorrow SAPREF will donate two science laboratories in Umlazi and Merebank. The labs at Igagasi and PR Pather Secondary Schools will cater for a cluster of thirteen local schools with a combined total of more than 5000 learners from grades 8-12.
The project involved converting a classroom at the schools into a fully-equipped science laboratory, complete with work benches, cupboards, Bunsen burners, science kits and chemicals. In addition, six computers, a data projector and a screen for each school are part of the package to aid teaching and learning. The equipment and technology was selected in consultation with the Department of Education to meet the objectives of the new curriculum.
Says SAPREF MD Robin Mooldijk: "These initiatives, worth a total of R5million, support the quality of learning and teaching. They are part of a wider response by SAPREF to the call to uplift conditions in schools, especially in the areas of literacy, maths, science and technology. We wanted our 50th anniversary celebrations to impact the wider KZN province, and doing this via investments in schools was in line with our broader social investment programme."
ENDS
For more information please contact:
Cindy Govender
Tel: 031 480 1303 or 082 885 2909 or cindy.govender@sapref.com