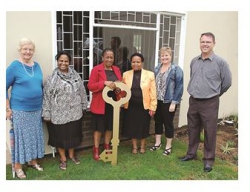 SAPREF - Petrol leak site houses repurposed for children's homes
THREE Bluff houses bought by Sapref in 2001 as part of a remediation process following a petrol leak have been given a new lease on life as homes for children in need.
The houses in Angelier Road were handed over to Durban and District Child Welfare, SOS Children's Villages and Mzamo Child Guidance and Training Initiative of KZN at a ceremony on Wednesday, 27 November. Fondly nicknamed the 'Sapref children's village', they will serve as residences for children in need.
The donation was made in honour of the Sapref's 50th anniversary programme. "As we demobilised the site this year, Sapref made a decision to donate the homes to NGOs instead of selling the properties. Once this decision was made, we then went through a process of selecting childcare NGOs that in our view, and in the view of the provincial Department of Social Welfare, had the capacity and the experience for doing what we intended for the houses," said Sapref HR manager, Lindiwe Khuzwayo, SAPREF's HR manager.
The three-bedroom fully furnished houses were renovated and customised for the needs of each NGO. Education was seen as vital, so each had working areas built in. SOS and Child Welfare will use the homes as a transition home for teenagers and young adults and will managed by a youth leader and house mother respectively. The Mzamo home, headed by two house mothers will become home to vulnerable children with cerebral palsy.
"We feel very lucky to receive this family-orientated home, which is in close proximity to essential amenities. It is amazing that children who have nothing will live in such a lovely home," said Child Welfare director, Mariza Kitching.
Mzamo assistant director, Badudu Ngidi added: "This donation of a house means a decent place to stay with proper treatment and specialised care for six children who have cerebral palsy. This is an important milestone for Mzamo, as it relieves us of the stress of looking for placement for these children as there are insufficient homes that cater for children with severe disability and particularly cerebral palsy."
-
erinh@dbn.caxton.co.za