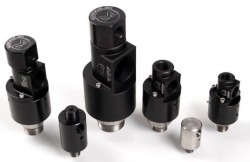 Bearing Man Group:Seals division has extended its range of sealing products to now include Mekrolek rotary couplings
Bearing Man Group Seals division has extended its range of sealing products to now include Mekrolek rotary couplings
2012-09-04
"Mekrolek rotary couplings or rotary joints, are designed to provide a reliable, leak-free seal between a stationary supply and a rotating workpiece," says Ken Steel, general manager of BMG's seals division. "As a major distributor of this range, BMG now also offers the market a manufacturing facility for custom designed units, fabricated to exact specifications.

"The company's service also includes a full refurbishment facility for most brands of couplings. Every unit is inspected and pressure tested for optimum performance, according to stringent quality standards."

These robust rotary couplings - which are available in mono and dual flow configurations, in threaded, flanged or quick release options â€" can be manufactured in various materials, including stainless steel, brass and aluminium.

Important features include hydraulically balanced mechanical seal faces which reduce rotor torque and stainless steel rotors that prevent scale build-up. There are no springs in the media which results in optimal flow rates. Units with high wear resistant faces are designed for operation in harsh conditions. Non-standard couplings are also available.

General purpose units range from ½" to 2" and heavy duty units are obtainable on request, from 2" to 4". A new range of steam rotary couplings will soon be launched.

The Mekrolek range also includes multi-port joints, as well as fixed and rotating syphons.

Applications for these rotating couplings include ball mills, pulp and paper mills, hydraulic coiling and uncoiling, brakes and clutches and flexible packaging. These units are also designed for use in rubber mixers, guillotines and eccentric presses.

BMG's portfolio of sealing products also includes rotary shaft, torric, hydraulic and pneumatic seals, as well as allied products like O rings, single spring mechanical seals, gland packing, waved washers and circlips.

Garlock seals and sealing systems, which are designed for extreme operating conditions, are an important part of BMG's range. These products include oil seals and a complete range of non-asbestos gasket materials. BMG also stocks Garlock bearing isolators and mechanical seals, which provide optimum bearing protection, ensuring contamination exclusion and extended service life of the entire system.

BMG's extensive branch network of over 100 outlets supports this range with a solutions based, technical advisory and support service.
---