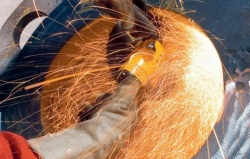 Bearing Man Group:Tool range now includes Atlas Copco turbo grinders (Mar 2013)
Bearing Man Group Tool range now includes Atlas Copco turbo grinders (Mar 2013)
2013-04-30
"These hand held Atlas Copco grinders, with axial turbine motors, have power ratings between 2,1 kW and 4,5 kW and offer more efficient and quicker operation than conventional grinders. Turbine technology ensures maximum utilisation of compressed air," says Andrew Johns, business development manager, BMG Fasteners and Tools. "These grinders have a maximum weight of 4 kg, which minimises strain on the operator and the compact design, with low height, ensures accessibility in cramped areas. Low vibrations and an optimum rotation speed minimises consumption of abrasives and for enhanced safety, there is an over speed protection device."

Another important feature is the lubrication-free air supply, which reduces the risk of hose deterioration and prevents oil spills on the grinding surface. These tools are also fitted with an integrated auto-balancer for reduced vibrations (< 2,5 /s²) and a speed governor for optimal performance.

The low height of the GTG 21 range, which allows easy operation, even in cramped spaces, is particularly well suited for overhead grinding tasks. These lightweight (2,8 kg) grinders, with an adjustable support handle for maximum feed force and flexibility, are available with optional dust extraction and diamond cutting kits.

Heavy duty GTG 40 units, with power ratings of 4,5 kW, achieve a higher rate of material removal on uneven surfaces than conventional grinders. These 4 kg hand tools, which are designed for rough grinding, fettling of castings or stock removal, are fitted with a silencer for reduced noise levels. These grinders have a throttle handle with soft rubber sleeves for temperature insulation and a comfortable grip. An easily adjustable wheel guard ensures maximum accessibility and enhanced operator safety.

Quick and simple wheel changes of these grinders ensures high levels of productivity.

BMG Fasteners and Tools supplies diverse industries with a comprehensive range of quality branded fasteners, tooling and equipment.

The company offers a 24 hour solutions based service through its extensive branch network and newly established retail concept stores.

---