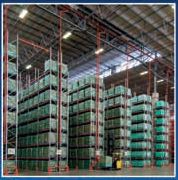 Illovo Sugar - New sugar warehouse brings storage and logistics to SA
Illovo Sugar - New sugar warehouse brings storage and logistics to SA
2013-11-15
THE achievement of substantial logistics cost efficiencies and the ability to supply our South African customers with their sugar requirements out of a world-class facility were the compelling reasons for the construction of a new central sugar warehouse in Pietermaritzburg. With its location, some 90 kilometres west of Durban at the heart of Illovo's operational centre of gravity, the warehouse will serve as the central distribution point between its sugar mills in KwaZulu-Natal and its customer base throughout the country.

Despite significant building interruptions due to heavy rains between September and December 2012, sugar movement into and out of the 51 000 square metre warehouse commenced on 4 March 2013 when we took partial occupation. This was made possible only due to the enormous efforts of our partner developers, and the dedication of the Illovo Project Team during the last 14 months of construction.

The warehouse (PICTURED) covers an area equal to 10 soccer fields and is a towering 24 metres high at its apex. The building structure consists of 23 600 cubic metres of concrete, 64 000 square metres of roof sheeting and approximately 3 000 tons of steel. Illovo's logistics service provider, Barloworld, will manage the facility, which is capable of storing 170 000 metric tons of sugar â€" equal to the annual production of a medium-sized sugar mill.

A prominent feature is the ability to stack one-ton bags of sugar to a level of 10 high by means of six overhead gantry cranes. There is also a dedicated area for 17 400 metric tons of palletised product, which will be stored in racking to a level of 8 bags high with battery-operated high-reach forklifts.

Once fully operational, approximately 170 road freight vehicles per 24 hour cycle can be handled through the facility.

Illovo is proud of becoming a member of the local Pietermaritzburg community, and in particular, contributing to the well-being and upliftment of the Sobantu Village that borders the northern perimeter of the warehouse. One community project is already underway through which Illovo is upgrading the local crèche that provides day care for 140 children - this includes the repair and restoration of the ablution and electrical systems, painting of the school and the installation of teaching aids. A unique feature of this assistance is the involvement of a group of our own employees who have already spent some time at the school assisting with the work.
---