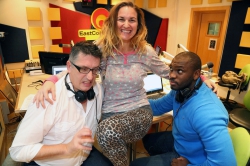 East Coast Radio - More sass and more crazy as Keri Miller joins East Coast Breakfast:Keri Miller rocked up to the studio in her PJ's this morning as she joins Darren Maule and Sky Tshabalala on East Coast Breakfast while Natarah is on maternity leave
East Coast Breakfast hosts, Darren Maule and Sky Tshabalala, had their hands full this morning when the station's weekend presenter, Keri Miller, rocked up to fly the "girl power flag" high. Keri has decided to take one for the girls and join the team while Natarah "Nats" Nadesan is on "Naternity" leave. Nats and her husband, Kirsh Arumugam, welcomed a beautiful baby girl on 1 July 2016, whom they've named Isla.
"I'm super stoked!" says Keri. "I can't wait to give Darren and Sky some stick!" As far as scores go though, today saw the boys get ahead as Darren and Sky picked on Keri's PJ's throughout the show. "It was either get here on time or get dressed!" explains Keri, who drove to the Umhlanga studios from her home in Morningside. "I promise there'll be no pyjamas tomorrow."
Not only does Keri promise to add more sparkle to the mornings but she's packing some serious spark too! "I can't wait to teach Darren some nifty yoga moves and get Sky to eat a full vegan meal," she says. Good luck Keri!
For now though, Keri and the guys have more pressing matters to settle, such as who's going to make the coffee!
Images: Abhi Indrarajan
ENDS
East Coast Radio, a division of the Kagiso Media Ltd, is one of KwaZulu-Natal's leading commercial radio stations. Broadcasting from Umhlanga, with an audience of just over 1.5 million listeners, the station has also weaved its way into people's lives through online platforms and regular major events. For general information, log on to
www.ecr.co.za
For any further information or interviews, please contact:
Anisa Ussuph
East Coast Radio
Communications Specialist
Tel: 031 570 9495/9436
Twitter: @anisaussuph