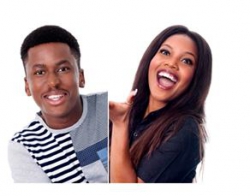 East Coast Radio presenters, Zaba and Msizi James, have landed their own TV show on ETV. Both are super-excited at the new challenge and hope fans will enjoy watching them on the silver screen.
East Coast Radio - Congrats to ECR's Zaba and Msizi on their new TV show!
2016-11-08
Two of East Coast Radio's popular presenters have landed their own TV show. Zaba and Msizi James are delighting fans on The Big Brand TV Show which debuted on ETV last week (2 November 2016).

Zaba and Msizi take turns presenting the show, a consumer-interactive game show.
"It's been pretty epic! I always love the opportunity to showcase my talents," says Zaba, co-hosts the weekday afternoon drive show on East Coast Radio alongside Phat Joe. The bubbly fashionista is no stranger to TV â€" she turned heads as one of the presenters of Hectic Nine 9 on SABC 2. "I love TV for similar reasons that I love radio," explains Zaba. "It is a chance to make people feel good, brighten up their day and make a change even if you don't actually know the person."
Msizi James is equally excited at bagging his own TV show. He too is no stranger to standing in front of the camera, having wowed hearts across South Africa in 2013 as a semi-finalist on Idols. He now presents the weekend breakfast show on East Coast Radio and is the host of the station's three-hour local music slot, #PlayLocal on Sunday evenings. "For me TV is the next step from radio. I'm so excited to have my foot in the door! I'm keen to learn more about TV and how it works.I remember watching this show when I was a kid and I would play along, so I'm so excited to be on it and a part of such a great team!"
Fans can catch Zaba as presenter on The Big Brand Show at 7.27pm on Saturdays, while Msizi presents every Thursday at 9pm.
East Coast Radio, a division of the Kagiso Media Ltd, is one of KwaZulu-Natal's leading commercial radio stations. Broadcasting from Umhlanga, with an audience of just over 1.5 million listeners, the station has also weaved its way into people's lives through online platforms and regular major events. For general information, log on to www.ecr.co.za
For any further information or interviews, please contact:
Anisa Ussuph
---