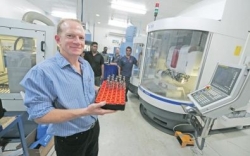 Somta Tools:Managing Director Allan Conolly told The Witness that Somta has now begun manufacturing tools made from tungsten carbide
Somta Tools raising the bar
2013-02-19
DRIVEN by production excellence centred on high quality products and the need to enter new markets, Edendale-based manufacturer of cutting tools, Somta Tools, has embarked on a major expansion.

Managing director Allan Conolly told The Witness that Somta has now begun manufacturing tools made from tungsten carbide, thanks to investments worth about R10 million in new equipment and technology through financing from the Industrial Development Corporation (IDC).

In addition, Somta is in the process of establishing a new research and development/training centre aimed at ensuring that the tools meet the changing needs of their customers.

Somta has secured major contracts from manufacturers in Europe for manufacturing tools made from tungsten carbide. There is also substantial demand from the domestic automotive sector, which currently imports most tools. Somta, which exports tool to more than 70 countries, was established 58 years ago and has always manufactured tools made from high speed steel.

The properties of tungsten carbide include hardness, durability and long lifespan. Modern technologies allow quick grinding time of the material.

Conolly explained that the market for tungsten carbide tools is substantial, adding that Somta has a very small market share.

"There is a huge market internationally. We estimate it to be around €16 billion per annum … and we have almost nothing of this market. The high performance tungsten carbide tools made at our plant are outperforming some of the world's leading brands. We are now in the realm of high-performance tooling."

The manufacturer, which has twice won the Pietermaritzburg Chamber of Business Business of the Year award, recently launched an empowerment initiative through the establishment of the Somta Employees' Trust, which gave the company's 500 employees a collective 7,5% stake in the company.

The new contracts and the new production capability has ramped up Somta's capacity to five times that of the prior year.

"That's the quantum of the leap we have made. It has meant more employment in certain skills areas. The world did not know we could deliver tungsten carbide tools. Our investment means more opportunities for more contracts and higher volumes."

Somta procured two new computer numeric control (CNC) grinding machines and new measuring equipment following the IDC's injection.

"The measuring equipment is the only one of its kind in the country."

Somta boasts eight new styles of tungsten carbide tools thanks to an alliance formed with a leading international design partner. "A while ago, we formed a partnership with a design engineer from the U.S., who provides us with unique designs."

Conolly is also eyeing the local market. He recently met with various automotive manufacturers based in South Africa.

Somta is already listed as a supplier of tungsten carbide tools to Durban-based Toyota SA. He is also exploring similar opportunities with Ford and VW SA. "We believe that the tungsten carbide market in South Africa is about twice the size of the high speed steel market."

While its entry into this market has taken some time to occur, Somta appears to be poised for impressive growth in this sub-sector.

---