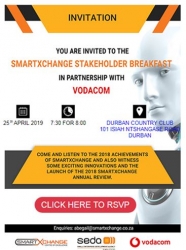 SmartXchange, Vodacom Stakeholder Breakfast 2019
SmartXchange, Vodacom Stakeholder Breakfast 2019
2019-04-25
SmartXchange in partnership with Vodacom held an innovation focused Stakeholder Breakfast and exhibition at the Durban Country Club. The event was graced by the presence of MEC of KZN EDTEA, Councillor Sihle Zikalala, MPP as well as distinguished government and public officials, founders, partners and SMME's. In his keynote address, Councillor Zikalala complemented the variety of SmartXchange, TIA funded MICTe innovations which were being showcased. He affirmed that MICTe is indeed an anchor of the Fourth Industrial Revolution (4IR) which places the innovations at a great commercial advantage leading to economic growth.

The MEC emphasized the need to encourage women in MICTe business and the need for provision of access to connectivity across all KZN municipalities which called for the roll out of the major fibre projects in Richards Bay, Newcastle, Msunduzi and Port Shepstone. The provision of connectivity access aims to encourage MICTe Research and Tech Training to communities as well as specifically to FET institutions. To hear efforts of such nature was comforting to Dr Anitha, Technology Innovations Agency (TIA) Innovation Project Manager, as she in her message of support, challenged organisations to assume a bigger role in contributing towards projects which prepare the country for the continued technological change at the emergence and implementation of the 4IR.

Both MEC Sihle and Dr Anitha highlighted the importance of partnerships in gathering, nurturing and building the future of a country that is in progress like South Africa, hence the special thanks expressed to Eleni Kwinana, Vodacom KZN Executive Head, for the continued support and opportunities provided to SmartXchange, SmartXchange SMME's and Innovators.

Jonathan, SmartXchange CEO, extended thanks to the different funders, partners and SMME's in the role they played towards the achievement of the R22 million 2018 SMME collective turnover and 63 jobs created by the collective 71 SMME's. SmartXchange together with TIA recognised eight 2018 funded innovation projects with a hand over of cheques. MEC Zikalala pleasingly participated in the handover to the following innovation projects, 1App; Cleankeep; Ecowarrior; Mufsas; Respo; SA SmartFilm Art; Sikephi App and Tag your ride.

To this end, SmartXchange remains committed to delivering on its mandate of enterprise development and innovation support.
---