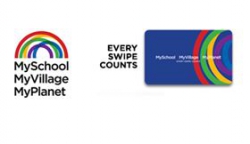 TAFTA - MySchool MyVillage MyPlanet Vote for Charities Competition
TAFTA - MySchool MyVillage MyPlanet Vote for Charities Competition
2014-04-08
VOTE FOR TAFTA
Help us win the cash prize by voting for us in the MySchool/MyVillage/MyPlanet Vote for Charities competition.
The charity that comes out 1st will receive a R50 000 cash donation, 2nd place will get R20 000, and 3rd, 4th and 5th will receive R10 000 each.
How does it work?
Visit www.vote4charity.co.za to enter competition from 7 April 2014.
Search and select TAFTA (The Association for the Aged) on the charities list. (Please note: You can only vote once!)
Insert your personal details and your MySchool MyVillage MyPlanet or Woolworths linked card number and press vote.
Get a MySchool card if you don't have one yet. Sign up here.
Encourage your friends, family and colleagues to do the same so that TAFTA gets even more votes.
If you don't have a MySchool MyVillage MyPlanet card you can apply for one online at
www.myschool.co.za
and vote for us as soon as you receive your card number.
---