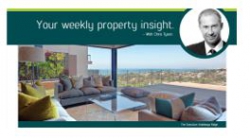 Tyson Properties - Your weekly property insight - Grabbing South Africa's property opportunities - With Chris Tyson
Tyson Properties - Your weekly property insight - Grabbing South Africa's property opportunities - With Chris Tyson
2016-02-02
Grabbing South Africa's property opportunities

Real estate is the cornerstone from which people, whether investors seeking rental incomes or ordinary homeowners acquiring the bricks and mortar in which they lived, build their wealth.

Building a property portfolio demands time, dedication and research, but the escalation in the number of home loans being approved by the banks underpins the surety South Africa's residential market will continue growing unabated, despite the current economic statistics. This is motivated by two main
factors; namely a shortage of properties due to the lack of new builds during the 2008 market downturn, and the continued growth in the population.

Earlier this year the number of home loans approved had risen 1% year-on-year, but this has more than doubled, showing both the willingness of banks to lend to consumers, many of whom would be entering the market for the first time, and potential buyers making the sacrifices required to get on to the property ladder.

Property markets follow cyclical patterns and currently the South African market is poised to climb. This is extremely relevant in KwaZulu-Natal, where Durban has been positioned as the fastest growing city in Africa, and the number of development opportunities, particularly on the North Coast, are increasing rapidly. Investors can make money during boom periods as home prices rise in line with demand.

Approaching the property market with the same principle as stock market investing has logic - stocks are bought when the price is low and sold when the price has climbed. That means not shying away from buying properties during quieter periods when there are opportunities to be grasped. Property in the year ahead will be robust - and that can only be taken as good news. Historically property has shown its mettle for its return on investment, but the mistake is thinking it is a short or medium-term commitment. Property is a long-term commitment that outstrips inflation even when there are ups and downs along the path.

Advisory column sponsored by Tyson Properties.

---