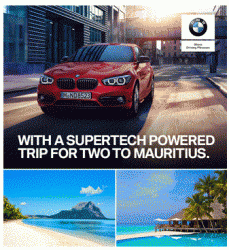 Trip to Mauritius with Supertech Durban
Trip to Mauritius with Supertech Durban
2018-09-26
It was John Steinbeck who wrote, "We do not take a trip, a trip takes us". We would like to offer a paradise island adventure. From now until 30 September, we will include a trip for two to Mauritius with every demo model BMW 118i purchased. Return flights, accommodation for 5 nights and selected meals will be part of this unique travel package.
For further information, please contact:
Regina Petersen
Tel: 0314651981
E-mail:
regina.petersen@bmwdealer.co.za
SUPERTECH DURBAN
8 Cliff Crescent, Cnr Vusi Mzime & Solomon Mahlangu Drive
Durban
0314651981
Offer valid at Supertech until 30 September 2018, subject to stock availability. While it is possible to lengthen your stay, include extra guests or add extras to the tour, this may incur additional charges. Terms and conditions apply.
---