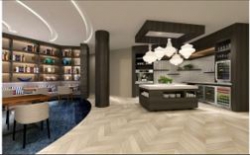 Hilton Durban begins its full room refurbishment project, including the prestigious Presidential Suite and Business Executive Lounge.
Hilton Durban Hotel - RENOVATIONS FOR HILTON DURBAN
2016-02-01
Renovations to Hilton Durban's Executive Rooms and Suites, including the prestigious Presidential Suite and Executive Lounge began in early January and are scheduled to take 4 months in time for the 2016 Tourism Indaba in May.

The new Executive / Business Lounge, located in the lobby of the hotel, is a newly created concept taken from research of international hotel and airport lounges which can be seen in all international airports. The Business / Executive lounge creates a place where one can work or re-energize after a long, busy day in a serene and comfortable environment with office-like convenience. The lounge is an integral part of the full service offering that we give our hotel guests. Whether staying with us for work or leisure, or simply using the business lounge for the day, the lounge is designed to meet all your needs. It is designed to enhance the guest experience of our in-house guests. In-house guests staying in executive rooms have full access to the lounge. Guests staying in non-executive rooms are also able to access the lounge for a day access fee.

Remodelling of the Presidential Suite and re-styling of 327 bedrooms plus corridors is also underway with the overall design being the perfect marriage of cultural elements and contemporary features.

Guests can be assured of minimal interruptions during the refurbishment project as normal hotel operations will continue as usual.

Hilton Durban, bringing the best of Hilton, to the beauty of Durban!

---