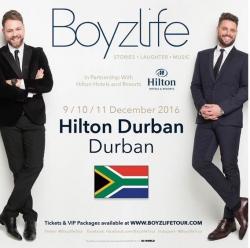 Hilton Durban Announces Boyzlife Tour - Brian McFadden and Keith Duffy take Boyzlife tour to the worldwide stage
Brian McFadden and Keith Duffy, part of the multi-platinum, record breaking bands, Westlife and Boyzone, joined forces earlier this year to create Boyzlife. The UK wide tour sold out within hours and now â€" due to phenomenal demand from their international fans â€" they are heading to venues across the globe, with dates confirmed in the UAE, South Africa and Europe. The international tour, in partnership with Hilton Hotels & Resorts, will give fans the opportunity to hear what really went on behind the headlines during their meteoric rise to fame, with an intimate evening of stories, laughter and music.
The 2016 international tour dates are as follows:
10 Nov â€" Hilton Jumeirah Dubai
11 Nov â€" Hilton Abu Dhabi
13 Nov â€" Hilton Berlin
14 Nov â€" Hilton Stockholm Slussen
15 Nov â€" Hilton Stockholm Slussen
18 Nov â€" Hilton Munich Park
19 Nov â€" Hilton Rotterdam
20 Nov â€" Hilton Frankfurt
26 Nov â€" Hilton Amsterdam
9 Dec â€" Hilton Durban
11 Dec â€" Hilton Durban
14 Dec â€" Hilton Sandton
15 Dec â€" Hilton Sandton
Boyzlife is the thrilling untold story of life in two of the worlds biggest boybands, with the lifelong friends walking the audience through their lives - captivating tales of the highs, the lows and of course a series of intimate performances, including a selection of the biggest hits that forged their careers!
Tickets will be available from http://boyzlifetour.com/
Keith Duffy says: "It's incredible to see what started as a conversation one evening between Brian & I, develop into something so exciting. After announcing the UK & Ireland tour, we had loads of requests from international territories to come and visit. It seemed like a bit of a pipedream at first, but after some great conversations with Hilton Hotels & Resorts we managed to adapt the tour to take it to venues worldwide. It'll be amazing to reconnect with our international fans once again!"
Brian McFadden says: "We're over the moon at the reaction to the Boyzlife tour, and we're beyond excited to take the tour worldwide. Keith and I have always been great friends and we've wanted to work together for quite a while now. With the amount of stories between us we knew it would make for a great live show, mixed in with a few songs and some fun interaction with our international fans â€" who have always been amazing."
Kate Dixon, Director of Regional Marketing, UK & Ireland says: "We are thrilled to be partnering with Boyzlife for their 30-date UK, Ireland and international tour in October, November and December. Having sold out the UK tour within hours, we're delighted to have Keith and Brian perform additional dates at our international venues - it's set to be a fantastic experience for the fans and we look forward to welcoming them to Hilton Hotels & Resorts across the world."
Both Boyzone and Westlife are two of the most successful boybands of all time to come out of Ireland and the UK.
During Brian's time in Westlife the band secured a record 7 straight Number 1 singles, 12 UK & Ireland Number 1 singles in total, 4 Number 1 Albums, x3 Record of the Year Awards, x2 MTV Europe Music Award, x1 Brit Award and countless others. Sales during this time reached in excess of 30 million. Brian's debut solo single 'Real To Me' topped the charts in the UK, Ireland and across Europe,
becoming one of the biggest radio airplay hits that year across the continent. Brian followed this up with a further three solo Number 1 singles and platinum status in Australia where he resided.
As a member of Boyzone, Keith has enjoyed incredible success, with the band being Europe's most successful boyband during the second half of the 1990's and the success has continued for many years. Achieving 6 UK Number 1 singles - with 16 of their first 17 singles going Top 5 in the UK Charts - it cemented Boyzone as the first Irish group to top the UK charts so regularly. 5 Number 1 albums were secured and over 25 million records sold worldwide.

For images and further information, please contact
Rachel Gordon
rachelg@ippublicity.com
T| 07816 973900