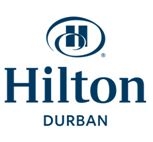 Hilton Durban's Head Concierge Is Awarded his Golden Keys
Durban, South Africa â€" 2 August 2016
â€" The esteemed association of hotel concierges, Les Clefs d'Or, has awarded Hilton Durban's longstanding head concierge, Wellington Nzuza, his Golden Keys. He now formally becomes a member of the 'Society of the Golden Key'. This prestigious membership is by invitation only and is one of the highest honours a concierge can be awarded. Wellington is now only the second person in Durban to hold this accolade.
This year, Wellington celebrates his nineteenth year with the recently refurbished hotel in Durban's city centre. He has been with Hilton Durban since its opening in August 1997 and this award is a symbol of his high standards and welcoming personality.
Speaking about the main qualities required to be head concierge, Wellington said, "Be friendly and welcoming, pleasant, keep your head whatever the circumstances, be motivated by a deep desire to help and remain unobtrusive".
"Wellington is an absolute asset to our hotel and a role model, inspiring his team members to delight the hotel's guests each day," said Markus Fritz, general manager, Hilton Durban. "Throughout his many years of service with Hilton Durban, he has received numerous team awards and given advice to tens of thousands of guests. There is nothing about Durban that this man does not know. As the first and last point of contact at the hotel, he plays an integral role in our high standard of service."
Golden Keys concierges are recognizable by the golden crossed keys they wear on the lapel of their uniform jacket. These keys are a symbol of their knowledge and high quality service. The priority of Golden Keys concierges is to "accommodate every client request, as long as this request remains morally, legally and humanly possible".
Media can access additional information about Hilton Durban at
news.hilton.com
About Hilton Hotels & Resorts
For nearly a century, Hilton Hotels & Resorts has been proudly welcoming the world's travelers. With more than 570 hotels across six continents, Hilton Hotels & Resorts provides the foundation for memorable travel experiences and values every guest who walks through its doors. As the flagship brand of Hilton Worldwide, Hilton Hotels & Resorts continues to set the standard for hospitality, providing new product innovations and services to meet guests' evolving needs. Hilton Hotels & Resorts is a part of the award-winning Hilton HHonors program. Hilton HHonors members who book directly through preferred Hilton channels receive instant benefits, including an exclusive discount that can't be found anywhere else, free standard Wi-Fi and digital amenities like digital check-in with room selection and Digital Key available exclusively through the industry-leading Hilton HHonors app. Access the latest at news.hilton.com and begin your journey at
www.hilton.comor
/
www.hilton.com
/ offers for the latest hotel specials.