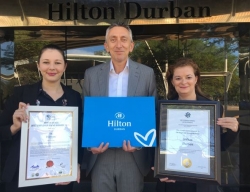 Hilton Durban Honored With SA Best Employer Brand Award 2019:Kari Cole â€" Human Resources Manager Markus Fritz â€" General Manager Candice Meyer â€" Learning & Development Manager
DURBAN, APRIL. 9, 2019 â€" Hilton Durban was awarded the prestigious South Africa Best Employer Brand Award representing a combination of the overall quality, range of facilities and level of services offered by the property.
World Federation of HR Professionals presented the award based on, attracting talent, retaining talent, developing talent and in retention policy, as well as cultivating competencies for the future to enable building the organization to be future-ready, diversified culture, employee benefits & employee engagement and equal opportunities to women leaders. The awards are announced annually, in several geographic regions as a build-up to the Global Employer Brands which is into its 28th Edition in 2020. This marks the first time that Hilton Durban has received the honor.
Alongside this great achievement we have also been presented an award from the International Hotel School, which recognizes our staff members who, through the provision of high-quality training and support, have assisted the school in the practical development of their students.
"This accolade is the result of the incredible hard work of so many people. The team work of our brand and management all combined to make us worthy of this recognition. We are in a people business â€" a business that relies upon the talent and passion of our team to deliver incredible experiences to our guests. We do this through our relentless focus on creating an exceptional workplace culture for all, and we are grateful for this meaningful recognition during our milestone 100th year," said Markus Fritz, General Manager, Hilton Durban.
Hilton Durban provides guests with a complement of services and amenities, including 328 guest rooms, 800 square meters of meeting space, outdoor swimming pool, laundry services, gift shop, Spa, restaurants, 24-hour fitness center, 24-hour room service, business center and complimentary Wi-Fi internet access.
Hilton Durban is located at 12 â€" 14 Walnut Road, Durban, 4001. For reservations, visit Hilton Durban at www.durban.hilton.com or call +27 (0) 31 336 8100.
About Hilton Hotels & Resorts
For nearly 100 years, Hilton Hotels & Resorts has set the benchmark for hospitality around the world, providing new product innovations and services to meet guests' evolving needs. With more than 585 hotels across six continents, Hilton Hotels & Resorts properties are located in the world's most sought-after destinations for guests who know that where they stay matters. Hilton Honors members who book directly through preferred Hilton channels have access to instant benefits. Begin your journey at www.hilton.com, and learn more by visiting newsroom.hilton.com/hhr or following Hilton Hotels & Resorts on Facebook, Twitter, and Instagram.
About Hilton
Hilton (NYSE: HLT) is a leading global hospitality company with a portfolio of 17 world-class brands comprising more than 5,600 properties with nearly 913,000 rooms, in 113 countries and territories. Dedicated to fulfilling its mission to be the world's most hospitable company, Hilton earned a spot on the 2018 world's best workplaces list, and has welcomed more than 3 billion guests in its nearly 100 year history. Through the award-winning guest loyalty program Hilton Honors, more than 85 million members who book directly with Hilton have access to instant benefits, including digital check-in with room selection, Digital Key, and Connected Room. Visit newsroom.hilton.com for more information, and connect with Hilton on Facebook, Twitter, LinkedIn, Instagram and YouTube.