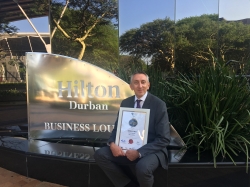 Hilton Durban General Manager - Markus Fritz wins Best General Managers Award (Hospitality)
General Manager of Hilton Durban, Markus Fritz was recently recognized as one of the Best General Manager's at the CMO Global gala ceremony.
CMO Global presented the award after identifying outstanding brand building & marketing individuals in South Africa. These awards are an independent brand recognition exercise initiated to give recognition to those individuals who have achieved extraordinary success from innovative and effective people management & customer satisfaction practices in South Africa. The mission of the Awards is to educate and disseminate the importance of hospitality & customer service in South Africa.
A veteran in the hospitality space with 21 years of experience, Fritz won the achievement as a professional who has excelled and "made a difference" as the general manager for Hilton Durban. In addition to running a successful property, based on service, quality and customer feedback, he surpassed other established industry leaders in South Africa, through his vast experience in different areas of the business and demonstrated exceptional leadership, hotel performance and management skills.
"It is a privilege to be a part of Hilton and an honor to serve with the team at Hilton Durban. I am humbled by this recognition knowing that the success of the property is only possible because of the team at the hotel." said Markus Fritz, general manager, Hilton Durban.
This accolade is one of many examples of how Hilton's commitment to its values enables it to spread the light and warmth of hospitality in positive, meaningful ways, such as creating a supportive workplace culture. An outstanding achievement by Markus Fritz as we mark Hilton's centennial milestone this year, and will continue working together to sustain our award-winning culture as the most hospitable company in the world.
Hilton Durban provides guests with a complement of services and amenities, including 328 guest rooms, 800 square meters of meeting space, outdoor swimming pool, laundry services, gift shop, Spa, restaurants, 24-hour fitness center, 24-hour room service, business center and complimentary Wi-Fi internet access.
Hilton Durban is located at 12 â€" 14 Walnut Road, Durban, 4001. For reservations, visit Hilton Durban at www.durban.hilton.com or call +27 (0) 31 336 8100.
About Hilton Hotels & Resorts
For nearly 100 years, Hilton Hotels & Resorts has set the benchmark for hospitality around the world, providing new product innovations and services to meet guests' evolving needs. With more than 585 hotels across six continents, Hilton Hotels & Resorts properties are located in the world's most sought-after destinations for guests who know that where they stay matters. Hilton Honors members who book directly through preferred Hilton channels have access to instant benefits. Begin your journey at www.hilton.com, and learn more by visiting newsroom.hilton.com/hhr or following Hilton Hotels & Resorts on Facebook, Twitter, and Instagram.
About Hilton
Hilton (NYSE: HLT) is a leading global hospitality company with a portfolio of 17 world-class brands comprising more than 5,600 properties with nearly 913,000 rooms, in 113 countries and territories. Dedicated to fulfilling its mission to be the world's most hospitable company, Hilton earned a spot on the 2018 world's best workplaces list, and has welcomed more than 3 billion guests in its nearly 100 year history. Through the award-winning guest loyalty program Hilton Honors, more than 85 million members who book directly with Hilton have access to instant benefits, including digital check-in with room selection, Digital Key, and Connected Room. Visit newsroom.hilton.com for more information, and connect with Hilton on Facebook, Twitter, LinkedIn, Instagram and YouTube.