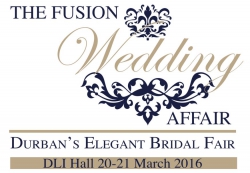 Durban Events Company - THE FUSION WEDDING AFFAIR
Durban Events Company - THE FUSION WEDDING AFFAIR
2016-03-17
DURBAN'S ELEGANT BRIDAL FAIR
"Fusion â€" the process of combining two or more distinct entities into a new whole"
The Durban Events Company and Sisonke Events are bringing a first to Durban, the 2016 Fusion Wedding Showcase.
A wedding Expo not seen before which brings all religions and races together in a style never seen before. A wide array of wedding exhibitors will be available to advise you on the new styles of wedding set ups from around the world as well as advise on how to make that special day even more memorable.
Selected wedding venue exhibitors will also be at the showcase showing Expo visitors what new wedding and honeymoon venues are in demand.

Main table set ups never seen in Durban before will be dressed in their entirety, wedding planners and dress stylists will be available for advice and wedding suppliers will be on hand to show Expo visitors what is trending in 2016.
A dedicated food court with live entertainment will be at the Expo and the opportunity for an Expo attendee to win a brand new car and two four day honeymoons in the Natal Midlands and Franschhoek will be a Durban first.
Save the date Sunday 20 â€" Monday 21 March 2016 at the DLI venue in Greyville. Show opens at 10h00 and doors close daily at 18h00.
Complimentary Canapés on arrival with the first 50 couples getting a fab Goodie Bag. Entrance fee R20.00 per person with kids U-12 free.
TIME
5 (Saturday) - 6 (Sunday)
LOCATION
D.L.I Hall
D.L.I Ave, Berea, 4001
ORGANIZER
The Durban Events Company - Mikaela Bairamis 0829736493
mikaela@eventscompany.durban
11/5/16 at 10:00 AM - 11/6/16 at 6:00 PM
Where: D.L.I Hall D.L.I Ave, Berea, 4001
---