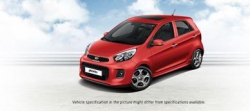 Durban Events Company - Win A Kia Picanto At The Christmas Gift Fair 19-20 November
Durban Events Company - Win A Kia Picanto At The Christmas Gift Fair 19-20 November
2016-11-14
Competition Open To 500 Visitors Only
The biggest competition at The Festive Gift Fair 2016 yet !!! On Saturday 19th and Sunday 20th there is a brand new Kia Picanto valued at R140 000 on offer to win for 500 lucky entrants. On each day 250 visitors will be eligible to enter the competition to win the car by guessing how many christmas and plastic balls are in the car.
Entry will be R50.00 per entry and visitors may only enter once. On Sunday after the close of the fair, the balls will be counted and any entrant who predicts the exact amount of balls taken from the car by a Commissioner of Oath's, will walk away with a brand new car as their 2016 christmas present.
You can pre-reserve your entry for each day by emailing us on

jo@eventscompany.durban

and we will send you the terms and conditions of entry. You must specify what day you are wanting to enter. 50% of all entry tickets will go to a worthy charity selected by The Durban Events Company.
---