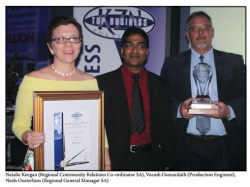 KZN Top Business Awards - Partnership Award:Natalie Keegan (Regional Community Relations Co-ordinator SA), Veeash Oomardath (Production Engineer), Neels Oosterhuis (Regional General Manager SA)
Tronox - KZN Top Business Awards - Partnership Award
2016-08-05
The Partnership Award reflects the importance of effective inter-agency collaboration and partnerships. he winner, Tronox is the culmination of a 21 year long journey, in which many stakeholders have had a hand in supporting.

Tronox recognises that its success is not a singular achievement, however it has been gained through collaboration with a number of key stakeholders. Thus the prosperity of the business is shared with the local communities and industries.

Tronox operates in the outskirts of Empangeni, Richards Bay, Mtunzini and eSikhawini in northern KwaZulu-Natal. Being part of these communities, Tronox is committed to supporting local companies. The mining company has worked closely with the various amakhosi from the area, to empower their local community members. As such locally based companies are used whenever possible and the establishment of new business ventures is supported. A key example of this took place during the construction of the Fairbreeze mine where 4200 contractors, predominantly from the northern KwaZuluNatal region, were used.

Tronox then has a preferred procurement policy, whereby certain contract work within the company is also reserved solely for community and local businesses. These businesses are then contracted to Tronox, but they do also render their services to other companies. In this manner the company contributes not only to the creation of small businesses, but to their future sustainability. On this note, Tronox has also offered bursaries to local community members and will later offer onsite training.

Tronox has a close working relationship with representatives from the local uMhlatuze, uThungulu and Umlalazi municipalities. Discussions are normally held on key issues in the area, such as ways to alleviate the effects of the current drought and to discuss integrated development programmes of different municipalities to ensure alignment.

Tronox works closely with the KwaZulu-Natal provincial government which has supported their journey. In addition, the mining company works with the South African Department of Mineral Resources, to ensure that all processes at Tronox comply with the required standards.

Tronox is a world leader in the mineral sands industry.

As such, the company is responsible for a number of key developments, which have led to the advancement of the industry. The various experiences and knowledge gained by Tronox is also shared with its peers. This is done by participation in various conferences and the publishing of a number of papers. A recent example of this would be the presentation of a paper on the rehabilitation of Hillendale which will be done at the HMC Conference in August 2016. This is aimed to show how mining companies can successfully rehabilitate the land once the mining processes are done.
---