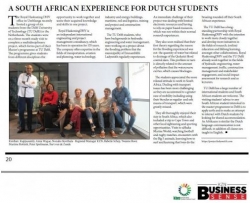 Royal HaskoningDHV - A South African experience for Dutch Students
The Royal Haskoning DHV office in Umhlanga recently hosted a group of six students from the Delft University of Technology (TU Delft) in the Netherlands. The students were on a three month study visit to
complete a multidisciplinary project, which forms part of their Master's programme at TU Delft. The programme gives students from different disciplines the opportunity to work together and unite their acquired knowledge and skills in one project.
Royal HaskoningDHV is an independent international engineering and project management consultancy, which has been in operation for 135 years. The company offers expertise in the fields of transportation, aviation and planning, water technology, industry and energy, buildings, maritime, rail and logistics, mining and project and construction management.
The TU Delft students, who have backgrounds in hydraulic engineering and water management, were working on a project about the flooding problem that the municipality of Emnambithi Ladysmith regularly experiences. An immediate challenge of their project was dealing with limited electronic resources and having to rely on paper based resources, which was not within their normal research experiences.
They also soon realised that their first theory regarding the reason for the flooding experienced was not the quantity of water but related to drainage of the Qedusizi flood control dam. This problem in turn is directly related to the amount of pollution that the watercourse carries, which causes blockages. The students appreciated the more relaxed attitude to work in South Africa. Dealing with transport issues has been more challenging as they are accustomed to a greater ease of mobility including using their bicycles as regular and safe means of transport, which were greatly missed.
They all thoroughly enjoyed their stay in South Africa, which also included a trip to Cape Town and other local sightseeing and sporting opportunities. Visits to uShaka Marine World, watching football and rugby matches, encounters with the Big 5 animals, learning how to surf and learning that boys do the braaiing rounded off their South African experience.
The TU Delft has a longstanding partnership with Royal HaskoningDHV with the intention to work more closely together and develop more initiatives in the fields of research, (online) education and lifelong learning, amongst other collaborations. Royal HaskoningDHV and the TU Delft already work together in the fields of hydraulic engineering, water management, traffic, construction management and stakeholder
engagement, and social impact assessment for research and as lecturers.
TU Delft has a large number of international students and South African students are welcome. The visiting students' advice to any South African student interested in the master programme in Delft is to apply early and to make an attempt to interact with Dutch students by looking for shared accommodation.
As Afrikaans is similar the Dutch language communication is not difficult, in addition all classes are taught in English.
https://projectladysmith.com