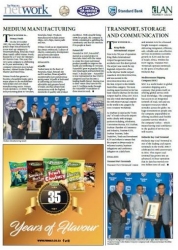 Frimax : KZN Top Business Awards 2017 : Medium Manufacturing - THE WINNER IS... Frimax Foods
Frimax : KZN Top Business Awards 2017 : Medium Manufacturing - THE WINNER IS... Frimax Foods
2017-09-07
THE WINNER IS...Frimax Foods

On the 20 October 1982, the very first packet of potato chips was produced by a new start-up company in Pietermaritzburg, KwaZulu-Natal (then Natal) called Frimax Foods, headed by a 37 year old visionary,
Mr Haroon Essa. This year, this very same company is celebrating its 35 year anniversary. The company's directors now include his sons, Abdool Kader (Baboo), Shamir and Faizel Essa.

Frimax Foods has grown to become a household name and a major player in the multibillionrand potato and corn snack manufacturing sector. Frimax Foods operates a 12 000m² hightech processing plant in Verulam, KwaZulu-Natal. Products manufactured include potato chips, corn chips, maize puffs
and nax.

Frimax Foods as an organisation has always embraced a culture of charity, community development and poverty alleviation throughout its existence.

FINALISTS
aQuellé
Tucked away in the heart of KwaZulu-Natal, beneath the earth's surface, flows aQuellé's exceptionally pure and precious spring water. aQuellé is dedicated to delivering an innovative, affordable and genuine brand of water, and has always been synonymous with the highest standards of quality and product excellence. With aQuellé being 100% for people, the company is firmly committed to uplifting the community and has the interests if its people at heart.

FutureLife®
Founded in 2007, Futurelife®, started as a social project in KwaZulu-Natal with the vision to create the most nutritional product possible to improve the health and wellbeing of everyone.

Futurelife® grew so popular that it was repackaged and launched into retail. A decade later - Futurelife® is now represented in four FMCG categories and has become a leading health brand. Staying true to their vision they have served over 9.2 million meals through the Futurelife® Foundation to those most in need.
---