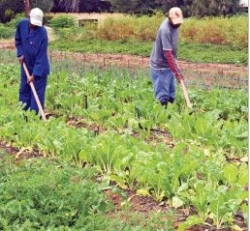 Rendering Services to Our People in KZN 2014
Rendering Services to Our People in KZN 2014
2014-08-01
A Focus on Five Priorities
Rendering Services to our people

During this term of office there are three important elements that encompasses the "non-negotiables" in respect of rendering services to our people: -

Firstly, there will be an ongoing training to ensure that those in public service understand the burden of poverty. Civil servants must understand that state resources should be used solely to transform our society.

Secondly, we will ensure the enforcement of ethical conducts and respectful behavior for the community by those in public office.

Thirdly, the Office of the Premier will be tasked with the responsibility of co-ordinating regular citizenssatisfaction surveys to measure the impact this government is making in improving service delivery.

Citizens will be given the opportunity to express their dissatisfaction and to point out weaknesses and strengths in relation to service delivery. This is what democracy is all about - giving the citizens the platforms and tools to assess the performance of the government they elected.

Government departments, government entities and municipalities will be subjected to this citizens satisfaction survey which will be carried out in partnership with leaders of various communities and big business.

Five Priorities

It is for this reason that the ANC-led government has identified Five Priorities that will be the focus over the next five years.

These priorities are:-

Creation of more jobs, decent work and sustainable livelihoods for inclusive growth:

Taking a cue from the objectives articulated in the National Development Plan, we will use our very own Provincial Growth and Development Plan to build an inclusive economy that create job opportunities for millions of our people. Working with big business, we will unlock job opportunities in different sectors of our economy such as agriculture, manufacturing, tourism, freight and logistics, maritime, automotive, rail, and a range of other opportunities.

We will assist all 10 district municipalities including eThekwini Metro to develop District Growth and Development Plans that are aligned to the PDGP. This exercise will ensure that local government plays a critical role in promoting economic growth, job creation and alleviation of poverty.

Rural development, land reform and food security:

Because of our past, many people in rural areas remain physically, socially and economically isolated from many opportunities. The inequalities amongst our people mean that we have to utilize our political freedom to attain emancipation for the majority that remains side-lined and marginalized. We will put greater emphasis on the coordination and integration of all programmes for rural development and land reform.
Paragraph 7949
Rendering Services to our people
Many rural areas are rich in mineral deposits such as coal. KZN is blessed with natural resources such as timber and sugarcane including game reserves. We will ensure investment to convert such resources into wealth that builds rural economies for the benefit of rural communities who are the real owners of the land.

We will have regular meetings with farmers and farm workers in order to deal with issues that affect them on a daily basis. We will focus on issues of safety, food security and how we can ensure that agriculture becomes a leading sector of our economy during this term of office.
Through the rollout of INkululeko Development Project, we will construct road infrastructure and ensure access to basic amenities such as water and sanitation, electricity, recreational facilities and social infrastructure such decent hospitals, schools, libraries and academic institutions for millions of our people in remote rural areas.

The creation Agri-Villages will be speeded to ensure that farming communities have access to government services such as
schools, healthcare facilities, decent housing and others.

Education:

We want to ensure an improvement in our matric results from the previous term of office. To achieve this, our major focus is on the creation of a strong support base for our education system consisting of community leaders and civil society. Our
message is that, for quality learning to take place we must all play a role. We condemn criminal conducts committed in our schools as this is robbing learners of the opportunity of being able to reach their optimal academic and educational potential. We will prioritise the delivery and distribution of leaner-teacher support materials. We will also ensure that schools have adequate teachers in all subjects.

Due to the fact that learners spend approximately half of their hours at school, we undertake to invest more
in school infrastructure such as classrooms, libraries, laboratories and information communication and technology. We want to ensure that our learners not only progress to the next level, but we want to produce learners capable of providing solutions to local socio-economic challenges before and after completion of Grade 12.

Health:

During this term of office we will move with speed to towards the introduction of the National Health Insurance system. There is no turning back. We have seen an improvement in the provision of quality healthcare to our people in our NHI pilot sites in Amajuba, uMzinyathi and uMgungundlovu. We are convinced more than ever before that this is the only system that will eradicate all the inequalities in the provision of healthcare to the people of this province.

Paragraph 7950
Rendering Services to our people
Building on the achievements of the ANC-led government in the previous term of office, we commit this government to building a healthier nation with programmes to fight diseases such TB, HIV and Aids being strengthened.

This will also involve the establishment of Aids Ward Committees, District and Local HIV and Aids Councils by municipalities across the province. Regular progress reports of these councils on the fight against HIV and Aids will be presented quarterly before the Provincial HIV and Aids Council which is chaired by the premier. In order to make progress in the reduction of maternal and child mortality rates, we will start the process of introducing midlevel workers especially in the management of Mother and Child Health as part of the Primary Health Care programme. We also want to make a serious assault against communicable diseases and social ills through the grassroots mobilization. As part of infrastructure development programme, we will continue to build new clinics and hospitals across the province. We will ensure that these health facilities are staffed with adequate, well-trained and carrying staff.

Fighting crime and corruption:

We commit the provincial government to remain firm against fraud and corruption. We will come hard on those involved in corruption associated with the supply chain and procurement sections. Through the contract management system to be introduced in our Supply Chain and Procurement Management Units, we will combat fraudulent issuing of tenders and contracts to unskilled and undeserving entrepreneurs.

All contracts should pass the scrupulous test of value for money through a fair and transparent competitive process. Criminality in the award of tenders will land those involved in prison. We encourage members of the public to notify government if they know any suspicious conduct of officials involved in the Supply Chain Management.

We encourage members of the public to use the Tender Appeals Tribunal which offers members of the public the opportunity to question any process in the awarding of tenders. We will establish Tender Appeals Tribunal in various municipalities across the province as part of our anti-corruption efforts.
---