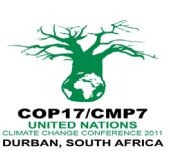 KZN PROVINCIAL CLIMATE CHANGE ROADSHOW HELD AT JOZINI SPORTS GROUNDS
KZN PROVINCIAL CLIMATE CHANGE ROADSHOW HELD AT JOZINI SPORTS GROUNDS
As part of build up events to the upcoming COP 17, the KwaZulu-Natal Provincial Government is hosting a
series of road shows in different Districts of the Province.
The aim of these road shows is to create awareness about Climate Change and its impacts; to highlight
climate change issues facing KwaZulu-Natal; as well as to educate communities on ways they can contribute
towards efforts to mitigate climate change.
Today, Mr. Mike Mabuyakhulu, the Champion of UMkhanyakude District was joined by the Mayor of Jozini,
Amakhosi, and thousands of community members in UMkhanyakude road show which took place in Jozini
sports grounds.
The event started by a parade around Jozini town where the MEC, Amakhosi, Local & District Mayors,
delegates and community members were carrying placards with information about Climate change and
distributing information brochures. The parade was then followed by a clean up campaign in Jozini civic
centre, which was followed by a visit to a local recycling project and the planting of trees at Ezibukweni High
School and at Ejozini sports ground.
There was also a stage play by well known KZN comedians and the theme of their play was on COP 17, the
play was very informative.
During his address to the community, Mr. Mike Mabuyakhulu emphasized on what the community at large
can do about Climate change. He clearly explained what climate change is and what causes climate change.
He mentioned that it is mostly caused by the increase in the atmospheric concentrations of gases known as
greenhouse gases. Greenhouse gases are emitted when oil, coal, petrol and diesel and natural gases are
burnt. Proper procedure should be followed when field fires are lit on communities authorized by traditional
leadership.
He emphasized that government institutions and the community at large should embrace the initiative of
planting trees in their institutions and homes because plants absorb carbon dioxide from the air and use it as
their energy source, producing oxygen for us to breathe. He also talked about the importance of recycling,
saying that recycling paper saves trees and reduces the energy used in paper manufacturing.
The community was also encouraged to save water, save electricity, to fit a solar water heater instead of a
geyser as it uses too much energy, to use gas for cooking instead of stoves.
He also touched on transport, advising people to reduce the amount of journeys on private cars and
encouraged them to use public transport, and use lift clubs when going to work.
We can conclude that the overall road show was a success and the message was well delivered to the
community.
Issued by COP 17 Office â€" Office of the Premier
Contact Person: Mandisa Shelembe
COP 17 Office â€" OTP
Cell: 0833896370
E-mail:
shelembm@premier.kzntl.gov.za