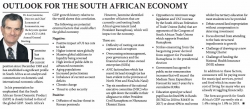 Outlook For The South African Economy - Azar Jammine
Dr Azar Jammine, Director and Chief Economist of Econometrix, was the key note speaker at the JCCI's 128th Annual General Meeting.
Jammine has been in his current position since December 1985 and has established a significant profile in South Africa as an analyst and commentator on domestic and international economic affairs.
In his presentation he emphasised that the South African Gross Domestic Product (GDP) is closely linked to that of the global GDP. South Africa's GDP growth history relative to the world shows this correlation.
The following are potential external factors that could affect the global economy.
Negative:
Positive impact of US tax cuts to fade
Higher interest rates globally
Massive global additions to liquidity being reversed
High levels of public debt in advanced economies
Aging populations
Increased protectionism
Imbalance of current account deficits
Climate change
Threat to cyber security
Positive:
Diffusion of nuclear threat in Korean peninsula However, Jammine identified a number of factors that are currently confronting South Africa's government (and President Ramaphosa), which will impact on the economy.
These are:
Difficulty of rooting out state capture and corruption
Overcoming mismanagement, poor governance and the financial woes of state-owned enterprises (SOEs)
ANC factionalism which has reared its head strongly (as has been evident in the provinces of North West and KwaZulu-Natal)
Top six members of the national executive committee (NEC) who are split down the middle in their allegiance to either President Cyril Ramaphosa or Nkosazana Dlamini Zuma
Opposition to minimum wage legislation and VAT increase by the South African Federation of Trade Unions (Saftu) that are opponents of the Congress of South African Trade Unions which supports President Ramaphosa
Strikes emanating from the bargaining power derived from support for President Ramaphosa in the presidential election
Government has agreed to public sector remuneration increases that will exceed the Medium Term Expenditure Forecast for next 3-years by a cumulative R30bn
Education spend per school pupil has declined 8% in Rands (R17822 in 2010 to R16435 in 2017) or about 40% in real terms whilst free tertiary education for most students is to be provided
Debate around land expropriation without compensation is deterring investment
Focus diverted from attending to the basic structural impediments to growth
Challenge of drawing up a new Mining Charter
Challenge of funding the National Health Insurance (NHI) scheme
In addition to these factors, consumers will be paying more for municipal services, petrol and food which increase the cost of living for many who are already struggling financially.
The forecast growth for South Africa's GDP currently sits at 1.4% rising to 1.8% in 2019.
Dr Azar Jammine Outlook For The South African Economy.JPG
Dr Azar Jammine Outlook For The South African Economy.pdf
Back to overview