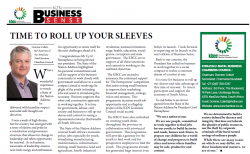 Dominic Collett - Time To Roll Up Your Sleeves
Dominic Collett - Time To Roll Up Your Sleeves
2018-02-25
What a wonderful experience to watch a State of the Nation Address be delivered with humility, respect and solid well thought out direction.

It was a week of high drama, but the country has emerged with a sense of elation and pride in a constitution and governance structure that allows for change in leadership and offers opportunity for renewal. As in business, succession of leadership ensures new fresh energy and enthusiasm. An opportunity to renew itself for the next challenges ahead of it.

Congratulations Mr Cyril Ramaphosa on being elected our president. The State of the
Nation Address highlighted his personal commitment and call for support of the business community to work closely with government and labour in a social compact aimed at resolving the plight of the youth in finding jobs and assist in stimulating the economy. Business supports this sober and constructive approach in working together. It is time for government, labour, civil society and business to roll up our sleeves and commit to seeing a rejuvenated economy that benefits all South Africans.

The State of the Nation Address covered South Africa's economic policy, jobs especially for youth, stimulating manufacturing, transformation, infrastructure, mining, small business, land and agriculture, fourth industrial revolution, national minimum wage, health, education, social grants, corruption and state governance. The KBCC are in support of all these intentions and commit to working to the outlined objectives.

The KBCC are excited to announce the continued support for 'The Entrepeneur' competition that assists young small business to improve their marketing, financial management, strategy, vision and mission. This programme increases youth job opportunity and is a flagship project of the KZN Economic Council social accord.

The KBCC have also embarked on creating youth desks throughout the province in collaboration with provincial government. This programme will provide a gateway for the youth to find work and for prospective employees to find the youth. This programme already has generated huge interest even before its launch. I look forward to reporting on its launch in the next edition of Business Sense.

Back to our country, the President has called on business to work together in a social
compact to realise a common dream of a nation at one.

It is time for business to roll up our sleeves and take advantage of this time of renewal. To invest, participate and support the economy of South Africa.

To end below is an extract quoted from the State of the Nation Address by President Cyril Ramaphosa:

"We are a nation at one. We are one people, committed to work together to find jobs
for our youth; to build factories and roads, houses and clinics; to prepare our children for a world of change and progress; to build cities and towns where families may be safe, productive and content.

We are determined to build a society defined by decency and integrity, that does not tolerate the plunder of public resources, nor the theft by corporate criminals of the hard-earned savings of ordinary people.

While there are many issues on which we may differ, on these fundamental matters, we are at one."

---