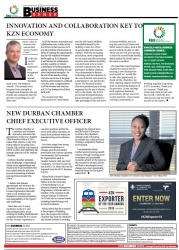 Dominic Collett - Innovation And Collaboration key To KZN Economy
Dominic Collett, the Chairman of the KwaZulu-Natal Business Chambers Council
In the last month, KZN businesses were recognised at the annual Standard Bank KZN Top Business Awards. This annual event has gone from strength to strength and showcases the top brands and companies that the province is privileged to call their own.
In all the winners, innovation and collaboration were evident as the key drivers in their success. KZN is in the forefront of innovation in terms of realising the opportunities that the 4th industrial revolution has brought us. KZN business is well known for collaboration and they outstrip our inland counterparts in working together, adding value and building on each other's individual strengths. By the end of the awards evening everyone was in awe of the great business achievements in a difficult economic time.
Congratulations to all the winners and everyone at KZN Top Business for all their hard work.
The second event that showcased KZN's innovation was the 5th Future Mobility Roundtable hosted by the Mobility Centre for Africa in partnership with Innovate Durban. With the increasing petrol price, more congestion on our roads and the increasing need for more efficient mobility, you don't need to be a rocket
scientist to predict the rise in alternative mobility solutions.
The advancement in battery technology and the reduction in the cost of electric cars points to a disruption in our automotive sector. The financial models that were presented put a strong argument for the use of electric cars in the future. The KZN's provincial development plan put us strongly in a position to take advantage of this new drive in Green Mobility. Best you pop into your local Nissan and BMW dealer to take a look at the electric vehicle models on offer. These cars are now also starting to enter the second-hand market, which makes the initial capex a bit easier to swallow.
The KwaZulu-Natal Business Chambers Council will be electing a new chairperson next month so I would like to take this opportunity to thank all the Chambers for their ongoing support and hard work in promoting business in the province. In my dealings with organised business, government, labour and civil society partners, I have found a strong commitment to working together in growing KZN's economy. Thank you to everyone. Thank you, Grant and Gayle for all your hard work. I wish the new chairperson and the KBCC all
success in the future.