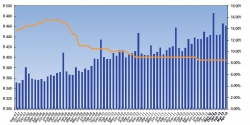 KZN Provincial Treasury:Spark Cash index April 2013:Average Cash WithdrawalVS Prime Interest Rate
KZN Provincial Treasury:Spark Cash index April 2013
2013-06-12
Consumer spending and cash withdrawals decreased marginally in April, following a spike in withdrawal activity during the March holiday period, according to the latest statistics released by Spark ATM Systems, South Africa's premier independent ATM deployer.
The Spark Cash Index (SCI)*, which measures the average value of cash withdrawals across more than 2 000 Spark ATMs throughout the country, revealed a month-on-month drop of 0.73% in April 2013 to R461.65 per transaction. However, the SCI
also revealed that year-on-year withdrawal activity increased by 6.01%.
According to Ryan Tzamtzis, Operations Manager of Spark ATM Systems, the locations that recorded the largest decreases were retail (2.41%), wholesale (1.57%) and agricultural (1.48%) sites. "The decline at the these sites illustrates that consumers
spent less than they did in March, which saw an increase in cash withdrawals as a result of the Easter weekend, school holidays
and other public holidays during the month."
For further info, click on the link:
April 2013
---