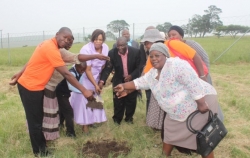 From left to right, ZDM Speaker Mr Mpiyakhe Hlatshwayo, Principal Ms N Mbatha, learner, ZDM Mayor, Mr OV Mbuyisa ZDM EXCIO member and mebers of the the SGB at yesterday's sod turning ceremony.
Zululand District Municipality is to build two classrooms at a cost of more than R445 000
2012-02-13
For Immediate Release
The News Editor.
ZDM TO SPEND MORE THAN R440 000 ON CLASSROOMS
Besides visiting this school the ZDM mayor, visited other areas of Ward 13 at Nhlazatshe, Zulu Rock handing over LED projects to assist economies in local wards. Several sewing machines and material was handed to sewing clubs in Nhlazatshe and Zulu Rock, fencing materials, chicken and chicken feed to several hatchery groups. Jojo Tanks were also given to those areas experiencing water shortages/problems.
KaMagwaza-Msibi also paid homage to the kraal of the late Induna Mbatha in the same area.
---