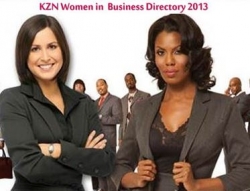 Durban Chamber of Commerce:KZN Women in Business Directory 2013
Durban Chamber of Commerce:KZN Women in Business Directory 2013
2013-05-30
The Durban Chamber of Commerce and Industry is proud to announce that it will be producing its 1st ever KZN Women in Business Directory 2013.
This was unveiled and launched in the presence of the Premier of KZN, our Honourable Zweli Mkhize by the Durban Chamber of Commerce & Industry President at the time, Ms Thato Tsautse at the very successful Durban Chamber Women in Business Conference in August 2012.
This 1st ever KZN Women in Business directory will be available during the month which celebrates Women, ie. August 2013.
Advertising SALES will be closing in June and we hope that you will not miss out on the opportunity to be featured in this directory. The deadline for artwork and submissions has been EXTENDED to 15 June 2013.
In order to make this a successful publication, we also invite BUSINESS to support our initiative.

The aim of the directory is to:
Support Women in Business by creating a dedicated directory for women owned businesses/women empowered businesses in KZN
Showcase and promote Women in business within the various business sectors
Present the directory to Government and Corporate companies wanting to do business with Women empowered companies
Create an opportunity for Women owned or empowered businesses to advertise in the KZN Women in Business Directory
The distribution will be circulated to:
Members of the Durban Chamber of Commerce & Industry
Advertisers
Government Departments
Embassies & Consulates
Other Chambers in South Africa
At international events VIA our stakeholders/role-players promoting the Province internationally (TIKZN/TKZN, etc.)
The Chamber encourages companies that are Women owned and have Women as CEO's/COO's/Executives/Managers to be featured in the publication. Furthermore, organisations that deal with Women issues, or which offer services to Women -should also consider advertising in the Directory.

FOR MORE INFORMATION, LISTING AND ADVERTISING OPTIONS, CLICK HERE
---