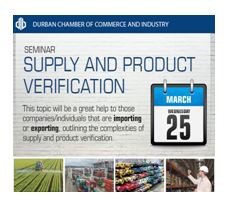 Durban Chamber - Supply and Product Verification Seminar
Durban Chamber - Supply and Product Verification
2015-04-21
This topic will be a great help to those companies/individuals that are importing or exporting, outlining the complexities of supply and product verification. Verification has become an increasingly important aspect in the conduct of national and international business, from regulatory compliance to BEE to simply making sure you get what you pay for!

Come hear all you want to know about "Supply and Product Verification", presented by Richard Cookson who has thirty years experience of advising clients on international business transactions.

He has travelled to and conducted business in every continent, having visited more than 80 countries and territories around the world. He is admitted as a lawyer in South Africa, England and Hong Kong. In addition, Richard has lectured law, international business and business finance at several colleges. He is Affiliate Faculty in International Business at Colorado Christian University in the United States.

The seminar will be co-presented by Jean Michel Marnoto, Vice President of Bureau Veritas - World leader in Testing, Inspection and Certification services.

And Thomas Andrews, Sub Saharan Africa Sales and Marketing Manager Intertek - the leading provider of quality, safety, testing, inspection, and certification.
Tuesday, 12 May
08:30 - 10:30

Costs: R280 for members | R420 for non-members
Prices incl VAT
Venue:
Chamber Square, Lion Match Office Park, 892 Umgeni Road
Click here to view parking map for Chamber visitors
Enquiries & RSVP: Prudence Sakala - Tel: 031 335 1000
Email: Trade@durbanchamber.co.za
Click below link to download details:
Seminar_Supply_and_Product_Verification_12_May_b42877b2a4b1f662982e98524697474b.pdf
- 161.8 KB
---